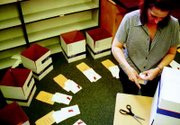 After Friday's stormy threats, the weekend's calm was a welcome surprise to local airplane enthusiasts. The wind sports' loss was the aviators' gain, resulting in a good turnout for Hood River's 6th Airport Days Fly-In.
The no-charge, all-volunteer event started Saturday with the arrival of everything from war birds to experimental prototypes, fixed-wing and rotary aircraft. The Columbia Gorge Aviators Association sponsored a steak and salmon dinner, followed by a dance to the music of the White Salmon Jazz Band.
Sunday morning brought an unexpected display of formation flying when a large flock of Canadian geese flew low across the runways and over the crowd, fortunately timed between take-offs or landings.
Air traffic of the man-made sort continued all day as the Eyeopeners Lions Club flipped pancakes for breakfast and the Columbia Gorge Aviators Association took over crowd-feeding duties at lunchtime with burgers and hot dogs.
Most prominent of the visiting aircraft, not only by its size but also by its celebrity, was the Grumman TBM Avenger — the same type of bomber former president George H.W. Bush flew as a 19-year-old Navy pilot when he was shot down in the South Pacific and rescued later by submarine. Of the 9,800 produced during WWII only 16 are still flying today.
Hood River's own WWII Flying Tiger Ken Jernstedt, for whom the airfield was named two years ago, never misses a fly-in, where he is as popular as some of the planes. Many people stopped to shake his hand or even ask for an autograph as he took in the sounds — if not so much the sights — of the event. Legally blind, Jernstedt still loves to be there and insists the handicap can actually be an asset.
"I'm getting to an age when I can't remember names, so when people come up to me I don't feel as bad when I have to ask who it is," he said.
Even though the usual "look, don't touch" rule applied for most of the participating airplanes, there were several scaled-down models for kids to climb into, including a kiddie simulator plane operated by Don Rasmussen of McAllister Museum of Aviation in Yakima, Wash. Young pilot wanna-be's received instructions through headphones and performed climbs and descents or tipped one wing or the other, clutching the control stick.
Airplane, bi-plane or glider rides were available and there were representatives from Evergreen Aviation Museum, the local remote control model aircraft club, and all day long a hayride (or a van for the allergic) shuttled between the main site and a hangar north of the runway, where Terry Brandt had his collection of antique aircraft on display, so there was plenty to see and do.
There was concern early in the day when one plane appeared to be having trouble gaining altitude after takeoff, then disappeared from view (see related article), but word soon came that no one was injured in the mishap.
More like this story
Latest stories
Latest video:
Advertisement: Local Appreciation Sale at Big Winds