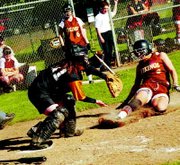 The 2003 high-school football season is less than one week away, and excitement is high in the Hood River Valley High School locker room.
Hoping to capitalize on a memorable 2002 campaign, which resulted in a 9-2 overall record and a second-place finish in the Intermountain Conference, the Eagles believe they have all the pieces to compete again in 2003.
Led by a young core of offensive players, the Eagles played in a jamboree at Centennial High School on Friday, and will begin the preseason next Friday (Sept. 5) at The Dalles.
Junior Alex Princehouse was named the starting quarterback for the Eagles, who learned they will be without expected starter Dennis Methvin this season.
As it stands right now, junior Adam Brown will share the primary running duties with senior Rocky Level.
For an in-depth preview of the 2003 team, see the Sept. 3 edition of the Hood River News.
More like this story
Latest stories
Latest video:
Advertisement: The Men of Black Friday
The secret agents of Big Winds may not exactly be Tommy Lee Jones oand Will Smith, but they still discovered there is plenty of strangeness to be found in Hood River...especially once winter sets in. Enlarge