Tuesday, September 2, 2003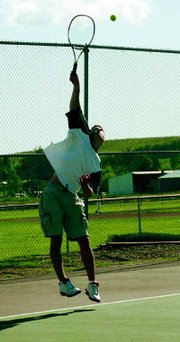 With 10 minutes remaining in Sunday's Columbia Gorge Soccer League championship, it appeared as though Jalisco had put the game away.
After scoring twice in the second half to break a 3-3 tie with Guerrero, Jalisco and their fans had already begun the celebration.
But a pair of bad breaks came back to haunt them, as Guerrero scored twice in the final five minutes to send the game to penalty kicks at 5-5.
Jalisco's collapse was complete in the penalty-kick round as they missed all three of their shots. Meanwhile, Guerrero made each of its three shots to pull out the 6-5 victory before nearly 500 people at Wy'east Middle School.
Guerrero, which had already fallen behind 3-0 midway through the first half, battled back to tie the game on two separate occasions.
Jalisco struck first at the 12-minute mark of the first half, and quickly deposited two more balls in the back of the net before Guerrero could react.
But, just like that, the game was knotted at three goals apiece before halftime.
The second half was much more evenly matched until Jalisco striker "Chino" broke through for two goals with roughly 15 minutes left.
That could have put the game away, but just minutes later, a penalty kick was called against Jalisco. The shot was saved, but the rebound was put home to make it 5-4.
Then, less than five minutes later, Guerrero sent a cross into the box that, after a brief scramble, wound up in the back of the net. Jalisco fans and players pleaded with the referee that there was contact in the box, but it was to no avail.
In other action, fourth-seeded Mt. Adams defeated third-seeded Azteca, 3-1, in Sunday's third-place match.
More like this story
Latest stories
Latest video:
Advertisement: Local Appreciation Sale at Big Winds