Friday, September 12, 2003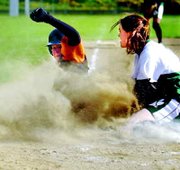 There is a strong sense of community pride in the new Hood River County Library — but the workers involved in its construction have an added sense of accomplishment.
"I feel privileged to have worked on such a prominent public building that will, hopefully, be around for at least another 100 years," said Casey Wright, concrete/carpentry foreman for Baugh Skanska Construction of Portland, the lead contractor for the project.
He said many residents are unaware that the 11,000 square foot new addition was built to withstand a major seismic event — even with three feet of snow weighing down the roof. According to Wright, 300 yards of concrete were used to pour the foundation walls that are 20 inches thick and 17 feet tall. In addition, he said the 90-year-old original brick structure on State Street was also upgraded to better withstand severe ground tremors.
"In case of an earthquake, the library is a good place to hide," he said.
Wright said the biggest challenge for laborers was to maneuver heavy equipment almost up to the property line on the steep hillside. He said there was a lot of tight cornering to retain the existing trees while erecting a "huge building on a small lot" — and still find room to store materials. He said, fortunately, there were no major mishaps and the only on-the-job injury was sustained by a worker who fell and hurt his arm while trying to carry a cup of coffee through the work zone.
Wright said a secondary challenge was faced by contractors to match the new walls up with those in the 7,500 original square feet, which were out of alignment. He said it also took creative engineering to install a new air conditioning system in the 90-year-old facility because there was limited room for piping and vents.
"In terms of construction standards, the new building isn't really very big overall, but it was a job with a lot of detail to it," he said.
In addition, Wright said the county was working with a tight budget — and in fact opted later to save labor costs by having its own building crew take on much of the finish casement and landscaping work. Although county voters approved a $3 million bond levy to upgrade the aging facility in November of 2000, the Friends of the Library and the Library Foundation undertook a capital fundraising drive to generate an additional $1 million. (For details, turn to page 6.)
The non-profit groups wanted a full build-out of the 1999 conceptual plans drawn by the Portland architectural firm of Fletcher Farr Ayote. The expansion had been designed to match the style of the historic Jacobean building. The original landmark structure had been constructed in 1913-14 through a grant from the Andrew Carnegie Foundation and was listed on the National Historic Registry.
"The budget was tight for this project and that made it really difficult to get the job done in time," Wright said.
Although the renovated library was originally slated to open in June, the new building was completed in late July and the facility reopened on July 31.
After spending about two months prepping the grounds after the county had relocated the historic Roe-Parker house (see related story, page 14) Wright said construction began last September and was aided by a mild winter. Although the county had set up a temporary lending institution in the nearby Dean Building, he said laborers were constantly surprised by how many people squeezed through the fenced barrier — ignoring the caution tape — and climbed over dirt piles to gain entrance and then ask where the books had gone.
"I think for a long time the public didn't know what was going on — there was a lot happening but it was out of sight," he said.
Throughout the project, Hood River native Casey Wright said that he kept running into other graduates from the Class of 1979 who were also in the construction trades. Those impromptu reunions provided him with the opportunity to catch up on old times.
He said many of the hands involved in crafting the library also lived in Hood River or surrounding communities, including Tony Fortner, Rick VandenBos, Maury Hildenbrand, Ed Wonsyld, Dennis Hale, John Kane, Scott Workman, Justin Steen, Martin Birkenfeld, Jerry Larson, and Ted Dietz. When the last nail had been pounded into place about mid-July, Wright said that many of the sub-contractors and laborers had already left for other projects so there was no celebration. He and the few remaining workers just locked the doors and left with the good feeling that their efforts had created a legacy. Wright said his personal pride in the project has been doubled by the fact that his wife, Susanne, who is an author, will soon have her adventure story "Rescue Flight" on the shelves.
More like this story
Latest stories
Latest video:
I Can't Keep Quiet singers at "Citizen Town Hall"
'I can't keep quiet,' sing members of an impromptu choir in front of Hood River Middle School Saturday prior to the citizen town hall for questions to Rep. Greg Walden. The song addresses female empowerment generally and sexual violence implicitly, and gained prominence during the International Women's Day events in January. The singers braved a sudden squall to finish their song and about 220 people gathered in HRMS auditorium, which will be the scene of the April 12 town hall with Rep. Greg Walden, at 3 p.m. Enlarge