Saturday, September 20, 2003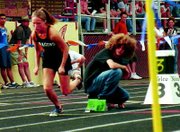 By CANELA WOOD
News intern
Party and event coordinator Dee Snider has begun helping Jane and Jack Sheppard prepare their scenic 28-acre estate and orchards for weddings and other events.
Snider is also preparing for her own wedding next July at Sheppard Estates, the prominent light green Dutch Colonial-style home on Tucker Road across from West Side Fire Station. The lawns and fields in back of the home provide a clear view of Mt. Adams.
Snider, whose mother, Barbara Kiger, was one of the first people married on Sheppard's Estate, is the wedding consultant for Gorge-us Weddings.
The Sheppards, with Snider's help, have begun to promote the 28-acre estate as a wedding and event site.
"We want people to have the wedding of their dreams here," Snider said.
The Sheppards have rented their property for 15 private weddings.
"We realized there was an opportunity, we have one of the prettiest places around and we've held many of our friends' wedding here, now we wonder how many others would want to," Jane said.
The home, located at 1200 Tucker Road, was completed around 1910, and had the same architect as the original Hood River County Library and the Oak Grove School. The house was built by a riverboat captain for his wife who was an opera singer, although she never lived in it. In the 1930s Jack Sheppard's parents bought the estate, and Jack grew up there. Jack later inherited the home that his family has now lived in for the past 20 years.
The property includes many different lawn options when it comes to where to stage an event, and also provides parking for up to 300 guests.
The landscaped areas include botanical markers so guests can identify the plants and trees they see. This past spring, the Sheppards added a shaded, landscaped courtyard area to the east side of the home. They have also begun to plant an 80-by-100-foot all white formal garden.
"The garden will be all white to accommodate each wedding's color scheme. With the garden, couples won't have to deal with making all of the floral arrangements," Snider said.
The Sheppards are also re-lawning an area located in the northwest section of the estate that will be available for family reunions or picnics and will include picnic seating, horseshoes, and volleyball.
In preparation for Snider's own wedding, the Sheppards will be reforming a corridor of trees to create a natural altar and canopy; lights will be installed among the trees.
The Sheppards also plan to purchase a portable dance floor.
"Small set items can change the whole decorating scheme of the wedding. We've hung twinkle lights, candles, even lanterns among the trees," Jane said.
"Extras can be acquired for weddings, if we don't have it here we have the resources to get it for them, it just depends on how elaborate they want to be and on their budget," Snider said.
According to Snider, the Sheppards' estate will accommodate any theme from Medieval to one including pets. The Sheppards have horse stables and dog kennels, so animals can be included weddings.
"I had a couple married on horse back," Jane said.
The Sheppards plan to begin hosting weddings in the spring, since the weather will be unpredictable in the upcoming months.
Any area of the estate can be used for events ranging from weddings to family reunions. Anyone interested in conducting an event at the Sheppard Estate and Orchards may contact Dee Snider at 806-0369, or e-mail gorge-usweddings@yahoo.com
The estate has a Web site that will be up Monday: weddings@ gorge.net
More like this story
Latest stories
Latest video:
I Can't Keep Quiet singers at "Citizen Town Hall"
'I can't keep quiet,' sing members of an impromptu choir in front of Hood River Middle School Saturday prior to the citizen town hall for questions to Rep. Greg Walden. The song addresses female empowerment generally and sexual violence implicitly, and gained prominence during the International Women's Day events in January. The singers braved a sudden squall to finish their song and about 220 people gathered in HRMS auditorium, which will be the scene of the April 12 town hall with Rep. Greg Walden, at 3 p.m. Enlarge