Wednesday, September 24, 2003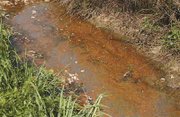 Long-time Hood River resident, ace fighter pilot and politician Ken Jernstedt has been named to the Oregon Aviation Hall of Honor at the Evergreen Aviation Museum in McMinnville. The newly-established Hall of Honor will recognize individuals in the state of Oregon who have made significant contributions to aviation and aerospace in all fields, including military, civilian, engineering, business, education and government.
"I was dumbfounded," said Jernstedt about receiving notification of the recognition earlier this month. "It is really quite an honor." Jernstedt, for whom the Hood River airport is named, earned the Distinguished Flying Cross as a member of the elite Flying Tigers during World War II. He was one of 100 volunteers recruited from the U.S. Marine Air Corps in 1941 to protect the Burma Road — a vital supply route into China — from Japanese attack.
Over a six-month period, the Flying Tigers destroyed 296 enemy planes and Jernstedt is credited with shooting down more than 10 of them.
After his military career, Jernstedt went on to a life of public service, serving as an Oregon state representative for two years before being elected to the state senate, where he served for 20 years. He also served as mayor of Hood River in 1959-60 and again in 1989-90.
Jernstedt will be officially inducted into the Oregon Aviation Hall of Honor at a ceremony at the Evergreen Aviation Museum next month. He will be honored along with eight other distinguished fellow-inductees — some of whom are now dead — including Major General Gordon Doolittle, Major General Marion Carl, Colonel Rex Barber and General Merrill "Tony" McPeak.
"I'm certainly honored to be associated with that group," said Jernstedt, who added that he's known every one of the other inductees except one.
"I'd met or had some dealings with all of them one way or another," he said.
Jernstedt, who is blind, will attend the Oct. 26 ceremony with his seeing-eye dog, Driscoll, and his wife, Gen. "It really is an honor," Jernstedt said. "I'm glad to be here to take it."
More like this story
Latest stories
Latest video:
Advertisement: Local Appreciation Sale at Big Winds