Tuesday, December 28, 2010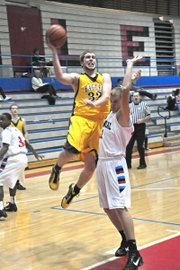 GRESHAM -- The Hood River Valley boys basketball team mounted a second-half comeback, but it wasn't enough to catch the Centennial Eagles and HRV fell 68-50 in the final of three games at the Centennial Winter Classic Saturday afternoon.
The Eagles were down 37-16 at the half after Centennial dominated play, including a near-perfect first quarter where only three Centennial possessions ended without points.
Chris Dirks and Justin Schultz led the HRV resurgence in the second half with Dirks scoring 13 of his 17 points and Schultz 14 of his 18. The Eagles opened the second half with a 6-0 run and trimmed the lead to 53-38 at the end of three quarters.
A Dirks three followed by four straight points from Justin Schultz got the Eagles to within 58-45 with six minutes to play, but Centennial then went on a 7-0 run to put the game out of reach.
Earlier in the tournament the Eagles lost to Clackamas 75-20 and to Canby 64-42. The Eagles were scheduled to host Reynolds Tuesday night and then play at the Silverton Classic Dec. 28.
Meanwhile in Forest Grove, the HRV girls played in the Forest Grove Tournament and dropped both of their games; the first to Liberty and the second to Lake Oswego.
Against Liberty, HRV led at halftime, but fell flat in the fourth quarter as Liberty rallied for a 38-35 win. Logan Bailey and Angie Titus had 10 points each for the Eagles.
On the second day of the tournament HRV fell 49-41 to Lake Oswego.
Latest stories
Latest video:
Advertisement: Local Appreciation Sale at Big Winds