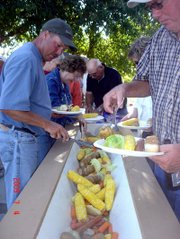 John and Kathy Alley of Hood River enjoyed their first Canned Corn Meal on a vacation to Colorado and decided the culinary feast would be fun to share with family and friends.
The Alleys were provided with that opportunity when the Hood River County Fair Board of Directors decided to dedicate opening night of the 2010 fair to military families.
Clara Rice, director of the fair, said the Canned Corn Meal is reminiscent of dinners served to soldiers at mess halls during World War II.
The Alleys will supervise the preparation of vegetables and sausage in milk cans and be assisted by members of the fair board and Gorge Heroes Club. The food will then be placed in a trough at 6 p.m. on opening night and people will be allowed to select their favorite items.
Hood River Juice Company is providing the beverage that accompanies dinner and GHC is serving fruit cobbler a la mode.
All veterans can purchase dinner for half-price at $5 per ticket. The cost for other community members is $10 and proceeds will be donated to GHC. The local troop support group sends care packages to men and women serving in the combat zones of Iraq and Afghanistan.
Rice said soldiers from the Hood River Armory will be given a complimentary meal and their children will receive free ride bracelets on that Wednesday (details in sidebar below). That offer has also been extended to soldiers from The Dalles Armory.
"The Guard from this area is deploying to Iraq soon and we thought it was a very important time to honor all of those who have served, or are serving, our country," said Rice.
SFC. Gary Norris, who oversees operations from the Hood River Armory, has arranged for a display of military vehicles and equipment that will complement the evening.
"We are humbled by this support and our soldiers are very much looking forward to this event," said Norris.
ALSO ON THE MENU
-- Godfrey the Magician will perform during dinner
-- A special program to honor military personnel will take place at 7 p.m.
-- A brief message will be delivered by Hood River County Commission Chair Ron Rivers
-- Perry Cole, director of the Mid-Columbia Community Choir, will sing
-- Western Antique Aeroplane & Automobile Museum will also have vintage vehicles on display and perform a flyover if winds permit.
More like this story
Latest stories
Latest video:
Advertisement: The Men of Black Friday
The secret agents of Big Winds may not exactly be Tommy Lee Jones oand Will Smith, but they still discovered there is plenty of strangeness to be found in Hood River...especially once winter sets in. Enlarge