Wednesday, November 3, 2010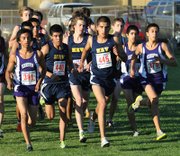 In a flip-flop of 2008, the last time it sent runners to state, Hood River Valley High School is sending its boys cross country team and a lone member of its girls team to the state meet at Lane Community College this weekend.
It is the first time the school has sent a full boys team to state since 1993, when it finished second in the state at the 3A level.
The Eagle boys team took second to powerhouse Hermiston at the Columbia River Conference district meet at Sandstone Middle School in Hermiston Saturday afternoon.
Grace Viuhkola won the girls race to become the HRV girls state qualifier.
The Bulldogs again put on a dominant show in the boys race, qualifying first with the minimum of 15 points by taking the top five spots.
Yonny Castillo was the top HRV boys finisher, taking eighth, with a time of 16:35.27. Aaron Baeza and Sage Deenik all but sealed second place for the Eagles when they crossed the line within 11 seconds of Castillo, in ninth and 10th place, respectively.
The other scoring runners for HRV were Sean Crompton in 16th place and Brodie Sutherland in 18th place.
For the HRV girls, expectations were high after they had beat both Pendleton and Hermiston in the Kyle Burnside Memorial the week before in Pendleton, but the district meet was on Hermiston's home course and the Bulldogs came out motivated.
In a tight race, where eight points separated the top three teams, Pendleton took first with 37 points, Hermiston second with 41 and HRV third with 45.
The home course advantage played right into the Bulldogs' hands with three Bulldog runners finishing just ahead of their HRV counterparts to squeeze out the few extra points needed for team qualification.
The Eagles were hoping to send both teams to state, but following a 2009 season in which they sent none, they'll willingly take a team and an individual.
The front of the girls race played out as a repeat of HRV's home meet last month. Viuhkola, Katie Markwick of Hermiston and Nicole Dillavou went to the front early. Viuhkola and Markwick eventually separated themselves and Viuhkola kicked hard down the home stretch to beat Markwick 19:09.21 to 19:12.33.
"Grace ran a great race," HRV coach Kristen Uhler said.
Both Viuhkola and Castillo have experience racing on the state course. Viuhkola was part of the 2008 HRV girls team that went to the 6A state meet and also raced the course during the Northwest Classic. In 2008, Castillo was the lone boys representative in the 6A boys race.
Team results
Boys
Hermiston 15
HRV 61
Pendleton 74
The Dalles-Wahtonka 84
Girls
Pendleton 37
Hermiston 41
HRV 45
The Dalles-Wahtonka 117
HRV individuals
Boys
8 Yonny Castillo 16:35.27*
9 Aaron Baeza 16:37.24*
10 Sage Deenik 16:45.61*
16 Sean Crompton 17:39.02*
18 Brodie Sutherland 17:47.34*
21 Ricardo Castillo 18:00.78*
27 Jorge Cuevas 18:25.62
Girls
1 Grace Viuhkola 19:09.21*
5 Lydia Gildehaus 20:06.18
8 Claire Merriam 20:09.40
14 Alia Burk 21:16.15
16 Althea Dillon 21:46.93
18 Danae Burk 21:56.93
22 Martha Sonato 22:19.72
*State qualifier
Latest stories
Latest video:
Advertisement: The Men of Black Friday
The secret agents of Big Winds may not exactly be Tommy Lee Jones oand Will Smith, but they still discovered there is plenty of strangeness to be found in Hood River...especially once winter sets in. Enlarge