Wednesday, September 15, 2010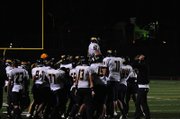 The Next Door will essentially have just one door by next year.
A crowd of about 100 people saw for themselves Wednesday how one large facility will replace the three separate buildings now used to house The Next Door's programs.
NDI's new home will be the 12,000-square-foot single-story commercial building on Tucker Road in the Heights. It will house administrative offices and the programs of Nuestra Communidad Sana, New Parent Services, Big Brothers/Big Sisters, and Youth and Family Services, along with Klahre House.
"It's the end of a 12-year quest," said Janet Hamada, NDI director.
NDI hosted an open house and capital campaign kickoff Wednesday, including tours of the near-empty structure.
It was formerly home of Encore Video (now relocated a few blocks north, next to Rosauers) which had been in the western portion of the building and Fastenal (now at Windmaster Corner) in the east third.
Former board member Dana Lance of Portland attended with his wife, Ellen. They were longtime Hood River residents; Dana had worked for years to find a unified NDI building.
Lance commented on how small the agency was when founded in 1971, and how proud he was that it had grown so much, and urged support for the capital campaign, according to Heidi Venture, NDI development manager, who welcomed the open house attendees along with Kelly Beard, NDI board president.
"We wanted people to see the 'before' so they could appreciate the 'after,'" she said.
Another special guest was Sylvia Klahre, wife of the late Jim Klahre, founder of NDI's Klahre House, which provides day treatment and other services to at-risk youth. Klahre House, on the Heights, was the original home of NDI.
"It was sweet to see everyone go up to them and talk about their own personal history, that sense of community," Hamada said.
"So many supporters, friends, what we call 'Next Door Neighbors,' came out to show their support and excitement about the new building.
"There were also lots of clients there: foster parents and young people, talking about all the services they had received," she said.
Among those was Hood River's Crystal Akin, who spoke about her experiences with New Parent Services.
NDI is looking at a move-in by March 2011, in time for the 40th anniversary of the agency, July 1971.
NDI hopes the capital campaign ("Opening New Doors, Changing Lives") will raise $703,000 for renovations, which will start in September.
Architect is Twentyten Engineering of Portland, and project management will be by Design Structures, The Dalles.
Offices, classroom and counseling spaces and a community conference room will be created inside the building.
Currently NDI rents offices downtown on Second Street, and two Heights homes: Klahre House at May and 11th streets and a home next door. They total 10,000 square feet.
Hamada said, "It'll help to consolidate all the offices. It will increase our communication, which is huge, and make it much more accessible and visible to the community."
About 37 people, full- and part-time, work in NDI programs.
"When we do get together it's amazing how we can help people," Hamada said.
"For our own stability in serving the community, we need our own home," Venture said.
"We'd kind of given up, and then this opportunity came along," said Venture, saying that building owners Dave and Carl Martin gave NDI a break on the $900,000 purchase price.
"For years we had tried to find property, and could not find the right place," Venture said.
Wednesday speakers included Glenn Taylor, former board member and a member of facilities committee, who "had fought for a site for so long," she said.
"We were looking at a much larger expense of building new, so this worked out really well for us," Venture said.
"We just can't run our programs out of three buildings, because we are constantly having inefficiencies, communications problems and travel between the buildings," she said.
In addition, Klahre House (owned by Dr. Luke Sloan) is for sale, and there were no guarantees NDI would be able to keep the lease.
"We haven't fit in that building for years," Venture said. "There wasn't room for all the staff, and that makes it difficult for people to feel connected."
Now, NDI headquarters will be large enough for Klahre House, and other ways to serve the community.
Hamada said computers donated by Lions will be set up for public access, similar to what had been available at the library and at the recently closed Soul Café.
The conference room will be made available to the community.
The new NDI will have ample parking and high visibility, according to Hamada and Venture.
Klahre House Manager Ralph Kupersmith said the program will likely keep the name because it is what the clients and community identify with.
Hamada said NDI has about a year to fulfill its capital campaign.
"We think (the timeline) is very doable," she said. A 16-member campaign committee has been formed, and NDI will also request foundation money, and has approached Lions and Rotary for funds.
The campaign has already garnered $18,170 in donations, according to Hamada.
"People have heard about it and started donating, before our committee has started going," she said.
The campaign will be done quietly, emphasizing appeals to individual supporters and businesses, rather than gala events, according to Hamada.
"One of the things we want to make sure is that donations to our programs aren't hurt by donations to our building," Hamada said. "That's why we're not doing events and other typical kinds of fundraising strategies."
More like this story
Latest stories
Latest video:
Advertisement: Local Appreciation Sale at Big Winds