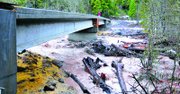 Call it the mystery of the missing bridge; or just an impressive showing of the forces of nature. Either way, the 60-foot steel-girdered crossing that once connected Red Hill with Parkdale is nowhere to be found.
"We don't know where it is," said Stuart Fletcher, U.S. Forest Service civil engineer. "It's likely within a quarter-mile or so, but we don't really know how far downstream it ended up. It's probably in several large pieces, bent up and buried under boulders and sand."
The bridge was swept away quickly - probably in a matter of minutes - during flooding and a debris flow in November, 2006 triggered by several days of heavy rain. Its replacement -- a three-span, 315-foot bridge - is nearly complete, and flooding last month has already put it to the test.
"It survived the recent event just fine," Fletcher said after surveying the area this week. Heavy rain and warm temperatures earlier this month put rivers in the Hood basin at flood stage by Jan. 16. At the Red Hill crossing, the river changed course and took on a new side channel directly under the new bridge. But with a higher, longer, beefier design, the new bridge had no issues with the high water or the material it carried.
"In this drainage you don't have high water without a lot of debris," Fletcher said. "The new bridge is designed to handle quite a bit larger event than what we had this month."
The $1,351,408 USFS project is expected to be completed late this spring. The four-plus year time frame for replacing the bridge was due to several factors. It was originally unclear who would be responsible for the project. The road is owned by Hood River County, but the USFS ended up taking on the project. Finding funding also took time; patience paid off, however, as the project was paid for with Federal Highway Administration funds. Designing the structure, finding a contractor and getting permits for the work took quite a bit of time as well.
"It was a fairly difficult site to figure out," said Fletcher. "We've been working on the project for a while, but it takes a lot of time."
Construction, contracted to Anderson Environmental from Kelso, Wash., started last summer and is on hold until late winter or early spring.
Although he's curious where it ended up, Fletcher said the USFS hasn't actively pursued locating the old bridge. "It's buried downstream somewhere, we know that," he said.
Latest stories
Latest video:
Advertisement: Local Appreciation Sale at Big Winds