Friday, February 18, 2011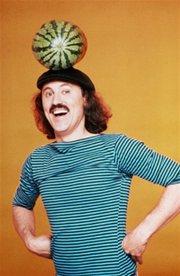 Well, I just got off the phone with the management of the Portage Grill in The Dalles, and I confirmed that comedy legend Gallagher (the guy who smashes watermelons) has indeed sold out his show at that venue, for Monday, Feb. 28.
Over 260 tickets were scooped up by fans, so it promises to be a great show. I'm sure the first 10 rows will need to be covered with plastic sheeting. If you didn't get a ticket (like me), the next best thing is to visit his official website and check out the video where he's on stage with his "one big prop," a giant trampoline couch. It's a hoot!
I'm glad to see comedy shows like this coming to our area, and here's hoping I get tickets for next year.
-----------
When I was a kid, everything I found out about Rock and Roll came from one source.
The Radio.
I mean, it had too, really, because we just didn't have any rock records in the house. No Beatles, no Stones, no Dylan, no Neil Diamond.
Actually, we did have Neil, but he was on 8-Track. And we played those 8-Tracks on a "Quadra-phonic" system.
Get this — this stereo had a dial on it that looked like a small air-traffic controller screen, with a green dot in the middle. You operated a small joystick to move the green dot around, and that "moved" the sound from speaker to speaker. Mostly, we just left it in the center, though.
So, where was I — oh yeah, the Radio. Growing up, it was the NYC stations with "Don Imus In The Morning." I'm pretty sure we were on the AM frequency on the kitchen counter radio.
Then I moved over to FM, and discovered WPLJ and WNEW, competing classic rock stations. I listened to rock DJ icons Scott Muni and Carol Miller, Tony Pig, and Jim Kerr. And then, this really crazy guy came on the air and started something that became the Howard Stern Show.
I miss the old radio days, and I guess I've always secretly pined for my own show.
And then it hit me. What if I actually could have my own Radio Show? I mean, what if Hood River actually had its own local community radio station, that could, I don't know, accommodate someone every other week for an hour or so, to play local bands and bands that have visited the Gorge throughout the years.
That would be a great way to play a bunch of those 8-Tracks I have laying around.
Tune in! Listen to Jim's local music show on Hood River's Radio Tierra, 95.1 FM, every other Thursday, at 6:30 p.m. starting March 3. Eventually, we hope to have shows archived on the web for podcast download. Note to Radio Tierra: we need a grant for a new 8-Track Player.
More like this story
Latest stories
Latest video:
Advertisement: Local Appreciation Sale at Big Winds