Friday, February 18, 2011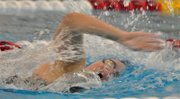 The Hood River Valley High School swim team has already sent more swimmers through to the finals than it did last year, and the preliminaries are not even finished yet.
The Eagles have qualified their girls 200 Medley Relay team of Danielle Miller, Alyssa Walker, Rebekkah Galvez and Taylor Tyynismaa, Connor Webb in the boys 200 yard IM, Walker in the 100 butterfly, and Tyynismaa in the 50 and 100 freestyles. Walker also qualified as first alternate in the girls 200 freestyle.
Miller is scheduled to swim the 200 backstroke later this morning. Webb will also be swimming in the 100 breaststroke prelim, as will Anika Engbersen. The HRV girls 400 free relay team of Walker, Kayla Schilling, Miller and Tyynismaa will compete in the last event of the morning.
To see updated results, go here: http://osaa.org/swimming/2011/5A/index.htm
Latest stories
Latest video:
Advertisement: Local Appreciation Sale at Big Winds