Wednesday, February 23, 2011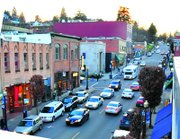 Every community in Hood River County, from Crystal Springs Water District to the Port of Cascade Locks, has a stake in the May 17 Special Districts Election.
The filing deadline is March 17 at 5 p.m.
Positions are open on the Hood River County School Board, Port of Hood River, Hood River County Parks and Recreation District, the County Transportation District and two other entities serving all or most of Hood River County: Columbia Gorge Community College and Region 9 Education Service District.
Port of Cascade Locks Commission will also be on the ballot, as will Mt. Hood Community College district board, which includes Cascade Locks.
Water, fire, and sanitation districts as well as the school Local Committees will be on the ballot.
Those interested in filing are encouraged to do so early, according to Kim Kean, county elections coordinator. Getting names enrolled in advance saves the county elections staff time and money in preparing the ballot for mailing around May 1, according to Kean. For details, visit the elections office in the county administration building, Sixth and State streets, or call 541-386-1412.
Here is the full list:
Hood River County Transportation District Board of Directors
Position 5, four-year term - Bill Byrne
Position 6, four-year term:
Position 7, four-year term:
Local School Committees
Cascade Locks, Position 1, two-year term:
Cascade Locks, Position 2, two-year term:
Cascade Locks, Position 3, two-year term:
Hood River Middle School, Position 1, two-year term:
Hood River Middle School, Position 2, two-year term
Hood River Middle School, Position 3, two-year term
HRVHS, Position 1, two-year term
HRVHS, Position 2, two-year term
HRVHS, Position 3, two-year term
May Street, Position 1, two-year term
May Street, Position 2, two-year term
May Street, Position 2, two-year term
Mid Valley, Position 1, two-year term
Mid Valley, Position 2, two-year term
Mid Valley, Position 3, two-year term
Pine Grove, Position 1, two-year term
Pine Grove, Position 2, two-year term
Pine Grove, Position 3, two-year term
Parkdale, Position 1, two-year term
Parkdale, Position 2, two-year term
Parkdale, Position 3, two-year term
Westside, Position 1, two-year term
Westside, Position 2, two-year term
Wy'east Middle School, Position1, two-year term
Wy'east, Position 1, two-year term
Wy'east, Position 3, two-year term
School Board Member At Large, two-year term
Position 1, four-year term - Liz Whitmore
Position 3, four-year term
Position 5, four-year term
Odell Rural Fire District
Position 3, four-year term
Position 4, four-year term
Position 5, four-year term
Parkdale Rural Fire District
Director Position 1, four-year term
Position 2, four-year term
Position 3, four-year term
Pine Grove Rural Fire District
Position 3, four-year term
Position 4, four-year term
Position 5, four-year term
Westside Rural Fire District
Position 3, four-year term - Steve Benton
Position 4, four-year term - John W. Beeman
Position 5, four-year term - Mark T. Beam
Crystal Springs Water District
Position 1, four-year term
Position 4, four-year term
Position 5, four-year term: - George "Mick" Swyers
Ice Fountain Water District
Position 4, four-year term - Brad Fowler
Position 5, four-year term - Don Decker
Library District
Board Member, two-year term (Vote for 3)
Board Member, four-year term (Vote for 2)
Parks and Recreation District
Position 3, four-year term - Art Carroll
Position 4, four-year term
Position 5, four-year term
Port Of Cascade Locks
Position 1, four-year term
Position 2, four-year term
Position 3, four-year term
PORT OF HOOD RIVER
Position 4, four-year term
Position 5, four-year term
Odell Sanitary District
Position 3, four-year term - Richard D. Sohler
Parkdale Sanitary District
Position 2, two-year term
Position 3, two-year term
More like this story
Latest stories
Latest video:
Advertisement: Local Appreciation Sale at Big Winds