Wednesday, February 23, 2011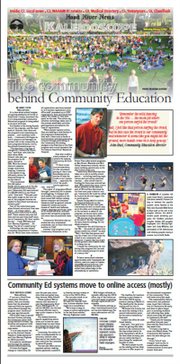 At a time when school budgets are getting slashed at all levels in Hood River County, the school district's long-standing Community Education program is being asked to do more with less.
But thanks to the strong foundation of the program, and the hard work of director John Rust and the program's two remaining employees - and countless volunteers - Community Ed forges on. And it plays an increasingly important role in the community as more programs formerly run by the schools themselves get cut.
"This has been a big year of changes for Community Education," said Rust, who took the helm when Mike Schend, who had run the program for 30 years, retired in 2009. With the school district's massive budget reductions looming, Community Ed needed to significantly reduce its financial footprint on the district.
"The traditional $115,000 deficit (funds which came out of the district's general fund to help support Community Ed) was reduced to a $20,000 deficit in one fiscal cycle," Rust said. "This past year was really tough on the core values of the program because we needed to have fiscal success as a primary goal."
Part of the reductions came when Schend retired and Rust was hired - at a lower salary - as well as from reductions in office staff. There remain only one full-time and one part-time staff member at Community Ed. Rust credits the two - Cindy Williams and Geri Murray-Hightower - for doing "the job of a small army."
Technology has also helped streamline operations at Community Ed. When Rust came onboard, all registration was done manually. In a normal registration cycle, office staff processed up to 2,000 registrations. Rust calculated that nearly five weeks of time were spent on the task. The online registration technology takes care of the process seamlessly, and also gets payments processed at the time of registration.
"When people register online, they are making a contribution to the program's sustainability," Rust said. Other aids to fiscal reductions have included generating revenue through advertising in the Community Ed catalog, pledges to the Families in the Park program and crucial sponsors like Providence Hood River Memorial Hospital.
Rust also credits a steady stream of volunteers for making Community Ed function.
"If there is one true success story, it's the volunteers giving of their time, knowledge and expertise to help the youth in our community - especially for all of the youth sports opportunities," Rust said.
The roster of programs offered through Community Ed is almost mindboggling. It changes with each season, but a glance at the most recent fall/winter catalog shows computer and business classes as well as general interest classes for adults and youth, dozens of health and wellness classes, language and music classes for adults and kids, multiple sports and recreation programs and more than 50 preschool classes.
Community Education also operates two very economical preschools, one in Hood River and another in Odell.
Another vital program run by Community Education is the Prime Time after-school programs at May Street, Westside and Mid Valley elementary schools, which many working parents rely on for after school child care.
Community Education has also taken on a role in middle school sports - including handling registration and recruiting volunteer coaches - after school district funding for them was reduced last year. With potentially more cuts to school athletics on the table as part of $3.5 million that must be cut from next year's district budget, Community Ed could be called on to provide an even bigger role in youth sports.
Despite being asked to reduce its financial footprint on the school district to zero next year, Community Ed will no doubt step up to the plate, as it always seems to. But as more is asked of the program, so too are more volunteers needed to help the effort.
"We survive on the community at the end of the day," Rust said. He has a favorite analogy for the whole situation.
"Remember the wild dancing in the '80s - the mosh pit where one person surfed the crowd?" he said. "Well, I feel like that person surfing the crowd, but in this case the crowd is our community and whenever it seems like you might hit the ground, more hands come in to keep you up.
"I thank the community for not letting this program fail; but ask for more hands because it's kind of a scary ride."
•
To learn more about volunteer opportunities with Community Education, send an e-mail to community.ed@hoodriver.k12.or.us. Contacting the program by e-mail rather than phone helps in the streamlining of operations.
More like this story
Latest stories
Latest video:
Advertisement: Local Appreciation Sale at Big Winds