Wednesday, February 23, 2011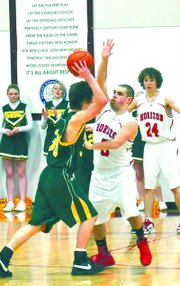 The Horizon Hawks didn't get their regular season league title, but they did get some motivation in wrapping up the regular season with a 58-41 win over South Wasco Friday night.
The Hawks never really put away the Redsides until the fourth quarter, coming off a loss to Sherman last Tuesday that knocked them out of contention for the No. 1 seed in the league tournament this weekend.
"We were non-inspired tonight," Horizon coach Darrin Lingel said. "Plus it was senior night and our rotations were off a little bit."
Instead of getting the first-round bye and only having to win one game to ensure themselves a spot in the state playoffs, the Hawks will now have to win Thursday to stay alive and then win one more game after that to be one of the three Big Sky teams in the state tournament.
The Hawks will play Condon-Wheeler, a team they beat by 14 points in Condon Feb. 4, Thursday at 4:30 in a loser-out game in Umatilla.
Before the game the Hawks honored seniors Jordan Anderson, Tanner Petitt, Andrew Stenberg, Evan Bergstrom and Cody Bott from the boys team and Paige Sorenson from the girls team.
All five seniors on the boys team were in the starting lineup and in the game to close it out.
"This is a diverse group," said Stenberg, a fourth-year player on the team. "We've got kids from all different schools and we work together well."
Sam Anthony, Matt Totaro and Bott all led the Hawks with 10 points.
This week, Lingel is getting the team ready for a run at the league title and said they are ready to bounce back after an up-and-down couple of weeks.
"We'll be ready," he said. "We've got some fight in us."
• In the early game the Horizon girls lost to South Wasco 28-19.
The Hawks stayed with South Wasco through the middle of the third quarter and pulled to within one at 15-14 but the Redsides then pulled away with an 8-0 run to take control of the game.
Despite the loss, Horizon coach Stan Perkins said that he has seen big strides from his team this season, especially in breaking the press, and believes another long session of summer ball will go a long way toward refining some of the flashes of excellence he has seen.
The Hawks should be returning all of their contributors other than Sorenson, and Perkins is excited for what the future holds.
"We're going to go do our summer ball thing and then be ready for next year," he said.
Latest stories
Latest video:
Advertisement: Local Appreciation Sale at Big Winds