Friday, February 25, 2011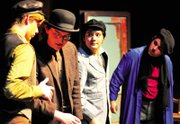 Meadows Film Festival March 5
The second annual Meadows Film Festival will be presented Saturday, March 5, to showcase the magnificence of the mountain and the creativity and talent of Meadows riders. The top ten selections will be presented at the Vertical Restaurant. The films, up to five minutes in length, were chosen based on depicting skiing/snowboarding at Mt. Hood Meadows, quality of production, audio, creative aspects and storytelling. The best of show will recieve a $500 prize. For entry information and to see last year's finalists, visit the resort website www.SkiHood.com.
Crazy Hat party in The Dalles
Crazy Hats are a must for this fun night of celebration and dancing at The Dalles Civic Auditorium Saturday, March 5. Dance to the sounds of the Sugar Daddies, featuring boogie woogie, blues, swing and rock 'n roll. Tickets are $10 available in advance at Klindt's Booksellers or at the door. Doors open at 6:30 p.m. The Crazy Hat party is a 21-and-over event. Prizes for the most unique, creative, colorful and of course, craziest hat! The 2nd Annual Mardi Gras Crazy Hat party is a benefit for the Dalles Civic Auditorium and sponsored by The Dalles New Car Dealers Association, Hattenhauer Distributing and The Theatre Company of The Dalles. For more information visit www.thedallescivic.org or call 541-298-8533.
Spectrum plays soul Feb. 28
For nine years, they've covered just about every genre of pop and rock. Spectrum — Hood River Valley High School's rock and pop ensemble — now takes the stage to present a concert rich with soul and rockin' with rhythm and blues. The concert begins at 7 p.m. Monday, Feb. 28, at the auditorium of Hood River Middle School. The all-ages concert is free but donations are accepted and will help fund the cost of hiring a sound system for the show. Director Mark Steighner says the performance will feature classics by such artists as Michael Jackson, Earth, Wind, and Fire and Patti LaBelle. The multi-talented teens will also sample more recent R&B tunes and even a little hip-hop. Original songs have been remixed, re-imagined and rearranged by the students themselves. "With over 35 students in the Spectrum program, there is no shortage of musical imagination," says Steighner.
More like this story
Latest stories
Latest video:
Advertisement: The Men of Black Friday
The secret agents of Big Winds may not exactly be Tommy Lee Jones oand Will Smith, but they still discovered there is plenty of strangeness to be found in Hood River...especially once winter sets in. Enlarge