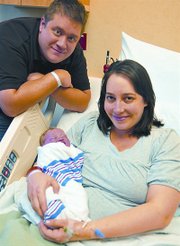 You might have heard the cheerful, familiar strains of Brahms Lullaby piping through the halls of Providence Hood River Memorial Hospital on Monday, Jan. 3 at 12:33 p.m.
Curious? The answer is an easy one. The music, now played whenever a new baby is born at PHRMH, welcomed Sawyer Matheson Stillwell into the world.
And Sawyer, along with his parents Elizabeth and Richard Stillwell, is receiving an extra dose of welcome from the community, since Sawyer is the first official baby of 2011 for Hood River County.
A hearty blonde with a gusty cry, Sawyer weighed in at 7 pounds and 8 ounces, measuring 21 inches in length.
Sawyer and his parents will be taking home a host of donated baby-friendly items from local businesses, courtesy of the Hood River News and their advertisers.
In addition, PHRMH will be waiving the insurance deductible normally accompanying the joyous arrival of a new baby.
Robin Henson, M.D., and Pam Howard, R.N., assisted the Stillwells in guiding the new brother into the family.
And, late in the evening on Jan. 3, following some rest for both the new mom and baby Sawyer, older brother Richard Brenton, aged 2½, will have been in to make his acquaintance with his younger sibling.
According to Barbara Ayers, marketing director for PHRMH, the competition was looking tough for Sawyer's first-baby-of-the-year win, with "a rush of deliveries right up until midnight on Dec. 31.
"And then, we had no one until the Stillwells arrived in the early morning of Jan. 3," Ayers said.
"We are just so happy to have Sawyer arrive healthy," said Elizabeth Stillwell.
"We have been waiting a long time for this little guy," added Richard Stillwell. "We had a miscarriage before him and it has been a long nine months, just hoping he would be okay."
Richard Stillwell is employed at Google, in The Dalles, and Elizabeth works as a volunteer for the Hood River County Commission on Children and Families. She has been active in the child car seat safety program and childbirth classes.
The Stillwells have lived in the Odell area since March 2006 and were high school sweethearts.
Their first son, Richard, was delivered at PHRMH during the new construction period with jackhammers wailing through their special day.
"We just had to come back and try out the new delivery area. It's a lot quieter this time!" laughed both Stillwells.
Latest stories
Latest video:
Advertisement: The Men of Black Friday
The secret agents of Big Winds may not exactly be Tommy Lee Jones oand Will Smith, but they still discovered there is plenty of strangeness to be found in Hood River...especially once winter sets in. Enlarge