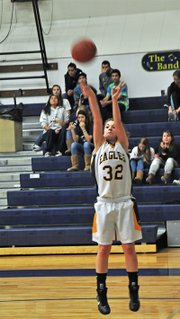 The Hood River Valley girls basketball team gave the Hermiston Bulldogs all they could handle through three and a half quarters Friday night before Hermiston's discipline and depth made the difference in the closing minutes in a 65-54 Hermiston win. The meeting was the first of four for the teams in what figures to be a hotly contested Columbia River Conference season. The Eagles got within 51-47 following a Logan Bailey three-pointer with 6:15 to play but could get no closer. Hermiston forced repeated turnovers on HRV inbounds attempts in the closing minutes to make the difference. "We were just trying to do too much," HRV point guard Jaci Bryant said. "Instead of focusing on the little things we needed to do we tried to do too much at one time." Bulldogs coach Steve Hoffert felt his team's bench players made the difference by forcing the Eagles to get out of tight full-court press in the closing minutes. "The difference in it for us was that in the fourth quarter the energy finally seemed to get to us," Hermiston coach Steve Hoffert said. "We played with a lot more intensity and worked harder. We got some fresh legs in there and that made a difference." The Vannet Court crowd, which included a large Hermiston delegation, was raucous, giving the first league game for the Eagles a playoff atmosphere. Both teams traded runs throughout the first three quarters, with Hermiston leading by as much as nine, but each time the Eagles reeled them back in. "I was really proud of the kids' effort," HRV coach Tom Ames said. "They played with the intensity that we need to and there was no quit in them." Hermiston came into the match-up ranked No. 6 in the state at 5A in oregonprepsporst.net coaches poll and No. 2 in the OSAA 5A power rankings. They showed HRV why they earned those accolades with consistent and disciplined play. Hermiston committed 15 turnovers to HRV's 26. Hermiston also shot its free-throws extremely well. Before missing four of their last five foul shots with the game in hand, the Bulldogs had made 12 of 14 from the stripe. Still, the Eagles put themselves in a position to be in the game at the end before Hermiston put things together in the closing stretch. "We just had that stretch where Jaci (Bryant) was running around trying to get open and three other people were standing there going 'Man, that doesn't look like fun up there,'" Ames said. "That's the read-and-react right there; you can't stand there and then decide to go help. It's too late." Bryant powered the HRV offense, scoring 21 points and distributing four assists. Most of the assists went to Angie Titus, who was the Eagles' second leading scorer with 15 points. However, it was Hermiston's Gracie Flyg who took over the game in the fourth quarter. Flyg led Hermiston with 15 points and scored seven of those in the fourth quarter. Sisters Heidi and Courtney Walchi scored 12 and 11 points, respectively, with Heidi scoring 10 of her 12 in the second half and Courtney scoring seven of her 11 in the first half. The triple threat of scorers combined with a stingy defense proved too much for the Eagles to overcome. "It happened four times in a row," Ames said of the Eagles struggling to inbound the ball after baskets or turnovers. "Then a four-point game turns into a 10-point game." But before the Hermiston press swung the tide, Ames said he was pleased overall with how things went. "Other than the press I was totally satisfied with how we played," Ames said. "We had a good game and got good looks when we needed to." Ames and his players both said they were glad with the improvement after the Eagles struggled with consistent play during winter break. "We just need to work on our conditioning a bit," Bailey said. "We've been hitting it pretty hard in practice this week with the bye. Then we just need to keep up the intensity in practice to play with the same intensity throughout the game. We've been lacking the intensity but we had it tonight." The meeting was the first of four between the teams, and with both teams having showed off their strengths and weaknesses early; both teams expect the next three to be close. "It's going to be one of those kiss-your-sister things," Hoffert said. "Each team is going to know what each team is going to do and it's going to be a matter of who can execute and get the tempo their way."
Hermiston 65 HRV 54
Hermiston- 15 11 13 16 - 65
HRV- 9 16 18 11 - 54
Hermiston- Gracie Flyg 15, H. Walchi 12, C. Walchi 11, Hoffert 7, Moss 7, Wise 7, Waters 3, Shakman 2, Crossley
HRV-Jaci Bryant 21, Titus 15, Bailey 7, Ing 5, Winans 3, Metivier 2, Brazille 1, White, Burck
Latest stories
Latest video:
I Can't Keep Quiet singers at "Citizen Town Hall"
'I can't keep quiet,' sing members of an impromptu choir in front of Hood River Middle School Saturday prior to the citizen town hall for questions to Rep. Greg Walden. The song addresses female empowerment generally and sexual violence implicitly, and gained prominence during the International Women's Day events in January. The singers braved a sudden squall to finish their song and about 220 people gathered in HRMS auditorium, which will be the scene of the April 12 town hall with Rep. Greg Walden, at 3 p.m. Enlarge