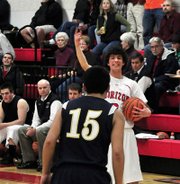 Jordan Anderson started it, Max Totaro finished it and right now the Horizon Hawks look like a team no one wants to play.
Totaro lit up the Echo Cougars for 19 points, while Anderson scored 15 and the Horizon defense capped a solid weekend by shutting down the Cougars 57-43. On Friday night the Hawks dominated Dufur with a 63-42 win.
The Hawks are now 6-0 in league play and spent the weekend thrashing two of their top competitors, with Echo being the only other unbeaten team in league play coming into Saturday night.
Totaro's big Saturday night got rolling in the second quarter when he hung in the air and tossed up a jumper while being fouled at the top of the key that swished through the basket and earned him a trip to the free-throw line.
That shot sparked a 10-2 run by the Hawks that allowed Horizon to gain control of the game. In the first quarter both teams played at a frantic pace, but the Cougars began to run out of energy as Totaro rained jumpers and slashed to the basket.
"He was on fire," Horizon coach Darrin Lingel said.
The Hawks also began to tire toward the end of the game after a ramped-up effort against Dufur the night before, but by that point all Echo could do was make the final margin more respectable.
"We got in our mojo and our defense led to our offense," Lingel said.
Anderson kept pace with the Cougars step for step in the first quarter with his own frantic play, scoring nine points and paving the way for Totaro to take over in the final three quarters.
"I didn't start well but I got going," Totaro said. "That and-1 shouldn't have gone in, but it did and that was a big confidence builder."
Totaro added another big and-1 when he got a four-point play late in the quarter when he sold a foul on a three-point shot.
Totaro said two big wins gave the Hawks confidence but that they didn't want to get ahead of themselves.
"It gives us confidence but we want to stay humble," he said. "We want to league, district and then state."
• The Horizon girls, worn out from a tough loss to Dufur the night before, were knocked down early by Echo in a 60-23 loss Saturday night.
The Cougars opened the game with an 11-0 run and the Hawks had only one first-half field goal, a first-quarter jumper by Dominique Figueroa.
M'Randa Aldrich led the Hawks with nine points.
Both Hawk teams host Arlington Friday and then play at South Wasco Saturday.
The Horizon boys team then plays its annual game at the Rose Garden in Portland vs. C.S Lewis Monday at 2 p.m.
Latest stories
Latest video:
Advertisement: Local Appreciation Sale at Big Winds