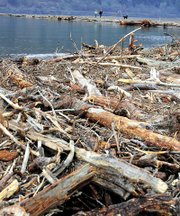 Floodwaters from last week's record rainfall have receded, leaving behind yet another task for the Port of Hood River to add to its long list of projects.
Where finely-groomed sand once greeted the feet of beachgoers on the west end of the Hood River Delta, now lies a littered graveyard of sticks and branches, stumps, logs and even a tangle of several whole trees, ripped from their roots and washed down the raging Hood River.
By the morning of Jan. 17, an array of wood from the Hood River at flood-stage had made its way around the north end of the delta and into an eddy between the Hook and the Event Site. Strong west winds that afternoon - into the 40 mph range -then pushed a lot of that material onto the windward side of the sandbar.
Except for Hood River's healthy population of fetch-crazed canines, the debris is a clear hazard for recreation on the sandbar; in particular kiteboarders who utilize nearly the entire shoreline during busy summer months.
"There is a significant amount of debris down there right now," said Michael McElwee, Port of Hood River executive director. "At this point it's a question of how much will be left after the late spring."
River levels at the delta typically fluctuate fairly drastically in the spring, when runoff from tributaries increases the flow and volume of the river significantly. Since nearly all the debris floated around the sandbar and was blown to where it is now, it's likely that most of it will float and be carried away when the river is raised and lowered a few times.
"We've planned aerial photos of the delta to get a better picture of what changes have occurred," McElwee said.
From the looks of the area, the delta has progressed slightly farther west in front of the Event Site and is a little larger on the east side in front of the Marina, where smaller debris has also come to rest. McElwee said the Port is watching how the situation progresses and will work with local groups to organize cleanup parties if needed.
After flooding in 2006, the Columbia Gorge Kiteboarding Association worked with the Port to clear large amounts of debris that would have otherwise posed unreasonable safety hazards for beach and river users.
If needed, cleanup this year should be significantly easier than in 2006, when a massive landslide at the base of Eliot Glacier triggered a fast-moving lahar that swept through the entire Hood River Valley in a few hours and deposited about 26 acres of sand, rocks and rubble at the mouth of the river.
Volunteers literally dug for hours at stumps and logs embedded in the sand before they could be moved. This year's flood may have added a little sediment to the delta, but for the most part new debris is resting on the surface of the sand.
Latest stories
Latest video:
Advertisement: Local Appreciation Sale at Big Winds