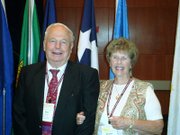 Hood River News publisher emeritus Dick Nafsinger died at 12:48 a.m. on Saturday, July 23, at his home in Hood River, in the presence of his wife, Phyllis, and his family. He was 77.
Nafsinger, a life-long journalist, was Hood River News publisher from 1962-92. He was president of Eagle Newpapers Inc., which owns Hood River News, until his retirement in October 2001. He remained on the Eagle board of directors until his death, and came to work as recently as July 16. In October 2010 Nafsinger received the James O. Amos Award at the National Newspaper Association convention. The Amos Award is presented to a working or retired newspaperman who has provided distingushed service and leadership to the community press and his community.
Nafsinger is past president of the NNA and the Oregon Newspaper Publishers Association in 1971.
A memorial service date will be announced this week. See the July 27 Hood River News for details.
More like this story
Latest stories
Latest video:
Advertisement: Local Appreciation Sale at Big Winds