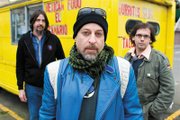 Ghostwriter at Double Mt
March heats up with live music at Double Mountain Brewery this month. All shows start at 8 p.m. and there is no cover charge. March 5: Otis Heat; March 11: Ghostwriter; March 12: Double Mountains Anniversary Party; March 18: Bob Connolly; March 19 Casey Anderson Quartet. Double Mountain Brewery, 8 Fourth St., Hood River; 541-387-0042.
Jerry Joseph at Waucoma Club
On Thursday, March 10, Jerry Joseph & Jackmormons featuring Steve Drizos (drums) & JR Ruppel (bass) come to the Waucoma Club in Hood River. The band is touring behind their 2010 release, "Badlandia." Showtime is 9 p.m. and there is a $15 cover. The Washington Post says "Sounding occasionally like John Mellencamp's older, wiser and psychologically mixed-up sibling, Joseph writes complex, image-laden songs and infuses them with plenty of attitude, soulfulness and swagger." The Waucoma Club, 207 Cascade Ave., Hood River; 541-387-2583.
'Art of the Print' opens
"The Art of the Print" will open on Friday, March 4, at the Columbia Art Gallery and run through March 27. The public is invited to the artist reception on Friday, March 4, from 6-8 p.m. The show will be comprised of recent works from regional artists and will showcase a wide variety of printmaking techniques and styles. Unique to this exhibit is the common thread that all the prints are hand pulled. In a hand pulled print, the entire process from conception to final image is pulled by hand or with a hand operated mechanical press, not by means of a digital printer. Artists will include Angela Earley (hand-printed accordion books), Gabriel Liston (monotypes), Barbara Mason (solar plate etchings), Susan Murrell (installation), Jane Pagliarulo (monotypes and collographs), William Park (monotypes), Sue Sutherland (monotypes), Elisabeth Walden (aquatint etchings) and Anna Wichman (woodcuts).
Dunnington at HR Hotel
On Saturday, March 5, singer Connie Dunnington returns to the Hood River Hotel with folk songs on acoustic guitar from 6:30-8:30 p.m. On Friday,?March 11, Richard Tillinghast returns. Hood River Hotel, 106 Oak St., Hood River; 541-386-1900.
SOS benefit concert March 11
A concert to benefit Save Our Schools (SOS) will be held Friday, March 11, at the Hood River Middle School. The all-ages show will feature Hood River rock band Sunderland (sunderlandrock.com). Music begins at 7 p.m. with an acoustic set, followed by a fun electric set. Tickets are available at Waucoma Bookstore and at the door: $7 for students and $12 adults. Additional donations are encouraged. SOS is partnering with the Hood River County Education Foundation to raise money for Hood River County schools.
'Lil Rev' concert March 6
Lil Rev is an award-winning multi-instrumentalist, songwriter and music-historian who teaches and tours nationally, around the continental U.S. Catch him live in Hood River at a house concert on Sunday, March 6, at 7 p.m., at 401 Montello, Hood River. His many awards and frequent travels have garnered him a loyal and growing fan base amongst lovers of all things ukulele, folk, old time and more. Call 541-387-4011 for more information.
Jackbone Dixie at Naked Winery
Friday, March 4, 6-9 p.m.: Kirby Swatosh - "Upbeat songs with a very nice energy. Great imagination with a sharp wit." Saturday, March 5, 7-10 p.m.: Jackbone Dixie - One of Washington State's most promising new bands. The band's sound defines the heartaches of life and outlines hopes for a better tomorrow. Contemporary country-rock, classis rock, and carefully selected bluegrass accents - Jackbone Dixie has both a strong stage presence complimented by beautifully written original songs. Sunday, March 6, 4-7 p.m.: Billy "D" - The blues are steeped in tradition and, in many cases, arbitrary song structure. Rarely do blues-types successfully deviate from the formula with original material. But Billy D (Billy Desmond) not only pulls it off, but may have unknowingly created his own genre. Monday, March 7, 7-10 p.m.: Naked Winery's open mic/Jam hosted by Les Vaughn. We say "thank you" to all the local folks for supporting Naked Winery. Naked Winery, 102 Second St., Hood River; 800-666-9303. Entertainment listings can be e-mailed to jdrake@hoodrivernews.com
More like this story
Latest stories
Latest video:
I Can't Keep Quiet singers at "Citizen Town Hall"
'I can't keep quiet,' sing members of an impromptu choir in front of Hood River Middle School Saturday prior to the citizen town hall for questions to Rep. Greg Walden. The song addresses female empowerment generally and sexual violence implicitly, and gained prominence during the International Women's Day events in January. The singers braved a sudden squall to finish their song and about 220 people gathered in HRMS auditorium, which will be the scene of the April 12 town hall with Rep. Greg Walden, at 3 p.m. Enlarge