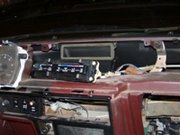 When Bands Go See Bands
Well, it finally happened. It took a lot of coordination, phone calls, pleading, and other assorted nonsense. I offered to be in charge of buying the tickets, and people associated with my band but not actually in the band were on and off the guest list more frequently than I can change mandolin strings. And, in true "band" fashion, at the last minute, it almost didn't work out.
But, thankfully, it did, and I finally, finally, got my own entire band, all three people, to go see another band.
And not just any band, in fact, this band had the exact number of people in it that my band has. It must be a lucky number.
Oh, did I mention, we went on our journey in the official band tour bus. Someday, we'll get a better tour bus, but for now, I'll have to put up with a "tour bus" that – get this, - does not have a dashboard.
That's right, a dashboard. The dashboard to our tour bus, which I have never seen yet, myself, is purported to exist, according to our guitar player. He said, when he bought the vehicle, that yes, the vehicle did come with a dashboard, but he removed it to "Fix the Heater-control-thingy."
That was about 2 years ago. Let's just say that on the trip home, I had to wrestle with cables and wires and god-knows-what-else until, by some miracle, we thought that we could actually feel defroster air coming out of the dashboard.
Our road trip began in Hood River, and we headed West on I-84, to our first tour stop, mind you, our first real band field trip-tour stop.
It was the Jack in the Box off exit 16.
Someone had to use the bathroom. Those 45-minute drives are something else, you know.
Then, at the last minute, our bass player decided she needed something to drink, so she went in and came back with a giant something or other. But, just so you know, keep this landmark restaurant in mind as you read the rest of the story.
We were on the road again. What to eat? Where? So many choices. So we decided on the only thing that seemed logical at the time.
Ethiopian Food.
Most of us had never tried this cuisine. We learned about the whole "pancake-crepe" item that's an integral part of this food culture.
We headed down I-84 again and drove to the Rose Quarter exit and headed north. We were in search of a restaurant called "Horn of Africa" Our guitar player was convinced this restaurant existed near the concert venue. But, this was way before the time of removing the dashboard from the tour bus, so we could be talking decades here, I'm not sure.
It turns out we didn't find that particular eatery, but did find a similar one nearby. So we head into this place – and we're pretty much the only ones there.
Except for the restaurant owners, who happen to be little people.
By the way, the owners were the most cheerful, helpful people I've ever met. Our waiter had to reach up to put menus on the table.
As they were looking at my license to make sure I was the right age for beer, I thought to myself "I just got to an Ethiopian restaurant in a tour bus that has no dashboard and now I'm being carded by a little person."
I just couldn't stop thinking about the little people dancing around the even smaller Stonehedge in 1983's "Spinal Tap."
Ah, to be in a band.
The restaurant played African-sounding jazz. Soon a few more customers came in. Our conversation ranged from "ethno-botany" to Halloween costumes. They had my favorite beer, but they didn't give a glass. And, come to think of it, I didn't have a fork either.
The food was great. Un-pronounceable but great. But there's no silverware. They bring out two of these huge dishes with various meats and vegetables on these humungous pan-crepes- that you tear off and wrap up with what you'd like to try.
I got over my fear of no forks and dug in.
Soon, we were full, happy people. It's almost time for the show.
The check arrives. Our bass player rummages through her purse. Everybody pretty much had the same thing, so we can forgo the "restaurant math" that plagues some folks and just split it 4 ways. We box up the leftovers and promise the owners we'll return again.
Suddenly, our bass player says she needs the key to the tour bus. We joke that she's going to leave us stranded. She comes back a little worried. Her wallet is nowhere to be found. The wallet is not in the bus, but she just knows that she brought it with her. In fact, the last time she saw it was….
At Jack in the Box.
After a few phone calls, miraculously, the Jack in the Box in fact does have the wallet, and will keep it for safekeeping until we pick it up later tonight.
[Advance story line: The photo to the left is our bass player retrieving her wallet from Jack in the Box at the Drive Up Window at 1 a.m.]
I settle the bill and we're on our way to the show.
The Wonder Ballroom is only a few blocks away, but it's so packed with people out front that we have to backtrack a few blocks to find parking, but it's not so bad. What is bad, though, is having to wait in a huge line to get to the box office to pick up will-call tickets. If I have to gripe, then how bout another line for will call? But, half the show is hanging out in line, I know.
Showtime was listed as 9 p.m., but I should know better by now. Fortunately, that's what time the warm-up band starts. We finally make it through to the ticket window and get inside. Good thing I reserved some tickets, because I think the show sold out.
It turned out that the warmup band was a band I saw back in January. It was Jackstraw, in yet another configuration that I hadn't seen before. They were wailing away on some down-home bluegrass.
Instead of the usual 2 guitar players, there's a totally different guitar guy (who coincidentally looked like one of the original guitar players), but who could also jam some note-perfect bluegrass picking. He combined the best of both into one.
This show must have been an all-ages deal because the beer section was closed off, and the only way to get in, was, that's right, to wait in another line. I have another gripe – a place this big needs a coat check room. What am I supposed to do? It's 40 degrees outside and 85 degrees inside, and it's just gonna get worse. Come on, Wonderball – get on the ball on this one. Have some amenities for people over 30.
The lights finally dim and this band comes on. Two acoustic guitars. One acoustic bass. Some vocal mics. Hmm, very similar to my band, indeed.
The show starts with the basic upbeat country-style song.
And I look out over the crowd from the bar upstairs at the back of the room. And I say to myself, "What the heck was that? Did someone fall off the stage?
And then, it happened again. Somebody climbed up on the stage, danced around, and then flung himself into the audience, a portion of which gladly kept him from plummeting to the floor. He bounced around on the crowd for a few seconds and then disappeared.
I can't believe it - people are gonna crowd surf to this music??
I venture up closer to the stage, but, I'm gonna be kinda careful - I don't really want somebody landing on me.
After all, I don't want my band to suddenly become a duo due to a bizarre crowd surfing accident.
The Devil Makes Three w/Jackstraw
Wonder Ballroom
Oct. 23, 2009
Portland
1. Beneath the Piano(?)
2. For Good Again
3. River Deep
4. Shades
5. Uncle Harvey's Plane (Roger Miller)
6. ?? "Chicago waiting for my train to come in (rag)
7. My Gal (Jim Kweskin Jug Band)
8. All Over You (Bob Dylan)
9. Graveyard
10.Ten Feet Tall
11. South Nashville Blues (Steve Earl)
12. The Bullet
13. ?? "people always screamed for it at every single show – highway – ain't drunk to drive"
14. Car Wreck
15. Gracefully Facedown
16. ???? Eastern European sounding instrumental
17. Statesboro Blues
18. ???? "20 dollar gold piece on my watch"
19. Aces and Twos
20. Black Irish
encore
???? "Back to my home – ain't nothing done here that you can hold"
P.S. this was a difficult set list to nail down, so sorry for the omissions. I emailed the band, but so far, no response. If anyone can fill in the 6 songs I'm missing – please send it in!
Thanks Dougie for the discs – I'll give them a listen soon and see you at the next show!!
More like this story
Latest stories
Latest video:
Advertisement: Local Appreciation Sale at Big Winds