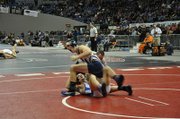 Robert Frasier had plenty of personal motivation to beat Hermiston's Abraham Rodriguez in the 5A 145-pound semifinals Saturday afternoon.
Facing Garrett Urrutia of Lebanon, an opponent he had never met, the chance to be a state champion provided all the motivation Frasier needed.
The HRV senior pinned Rodriguez, who beat him the week prior for the Special District II title, in the semifinals and then pinned Urrutia in the second round of the finals to become the 145-pound 5A state champion.
"It was fun," a grinning Frasier said. "I went out on top my senior year and that's what it's all about."
After losing in the semifinals each of the previous two years, Frasier tore through the competition this year, winning all four of his matches by fall or technical fall.
"The last two years I made it to the semifinals and couldn't finish; and now it means I'm on the next level," he said.
Rodriguez and Frasier would have made a worthy finals match-up - the two were ranked 1-2 for much of the season - but Frasier wound up being seeded sixth in the tournament thanks to HRV's move from 6A to 5A this year.
Rodriguez was the No. 2 seed with fellow Hermiston wrestler Matt Kilsdonk ranked No. 1. Kilsdonk was upset in the first round but Rodriguez and Frasier moved through the bottom of the bracket to meet in the semis.
Rodriguez had the upper hand throughout the first round of the match and took an early lead with a takedown.
The Hermiston wrestler made a critical error early in the second, though, when he went to his knees to try and get a better grip on Frasier. Frasier twisted loose, pushing Rodriguez to his back in the process, and had him pinned seconds later.
"Oh, no way," Frasier said when asked if he needed any extra motivation to take down Rodriguez.
Frasier went into the finals fired up and Urrutia stood no chance.
Both wrestlers tried to feel out each other's weaknesses and neither scored in the first round. Urrutia picked the down position to start the second round and it proved to be his first and last mistake of the match.
Frasier simply muscled Urrutia forward onto his shoulders, rolled him onto his back and had the victory by fall 2:39 into the match.
As soon as the referee whistled the pin, Frasier let out a roar of celebration, signed his bout sheet, then grabbed coach Trent Kroll in a bear hug. As soon as he had squeezed all the breath out of his coach, it was older brother David's turn.
"My brother has been there since I started," he said. "He's been a partner, a coach, a mentor. He's been everything. Coach Kroll sharpened it up a little bit. It's been a great, great four years with Kroll."
In his first two matches of the tournament, Frasier left strong signs that he was not going to be stopped short of a championship this year.
He beat Jason Vinton of Bend by a pin 52 seconds into their first-round match and then beat Garrett Miller with a 15-0 technical fall in the second round of their match.
"Robert did a great job," Kroll said. "He got through the stress of waiting and I'm super proud of him."
Frasier doesn't intend to be finished winning titles just yet. He still has two more wrestling discipline seasons to go and intends to wrestle collegiately next year.
"I'm going to do freestyle and Greco here pretty soon and my next goal is to be a triple crown," Frasier said. "And then it's off to college and wrestling the big boys."
Frasier was not the only HRV wrestler winning a title over the weekend. Katie Eddy won her second straight girls wrestling state championship on Saturday at 122 pounds, while Frannie Ybarra came back from a year off from wrestling and won a title at 114 pounds.
Ybarra dominated Jazzy Umemoto of David Douglas throughout their match, putting Umemoto to her back for two takedowns early and then keeping on her stomach for practically the entire match. Umemoto was repeatedly called for stalling, giving Ybarra four of her points in a 6-1 win.
"She looked she didn't want to wrestle," Ybarra said. "She just didn't move."
Ybarra won a championship in 2009 as a freshman but took the next season off before returning this year.
"It feels great," she said. "All the work paid off."
Eddy also got her match started with a takedown against Kiera Gabeldon of North Salem, got an escape in the third round and then got the final point of a 4-0 win after Gabeldon was called for stalling in the final minute.
Gabeldon had beaten Eddy two weeks ago, so the win was sweet revenge for Eddy.
She nearly qualified for the boys tournament after finishing fifth in the District II tournament, and would have to decide between the girls or boys tournament if she qualifies next year. She's not worried about that, though.
"I would have to decide next year," she said. "But that's a decision I want to make."
Latest stories
Latest video:
Advertisement: Local Appreciation Sale at Big Winds