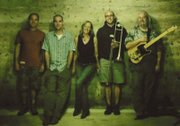 'I Am Love' screens May 25
On Wednesday, May 25, Columbia Center for the Arts presents the movie "I Am Love" at 7:30 p.m. This academy award nominated film starring Tilda Swinton tells the story of the wealthy Recchi family, whose lives are undergoing sweeping changes. Tickets are $5. This film is rated R, 2 hrs.
'Tis In My Memory' May 26-27
The Columbia Center for the Arts presents a special showing of "Tis In My Memory Locked," which has been adapted from Shakespeare's Hamlet. In this new exploration, art mediums collide and coalesce to create a story where re-occurring memories force Hamlet to re-examine his life and relationship with Ophelia. This production is brought to you by U of O graduate and former HRVHS student and resident Rebecca Morus. "Tis In My Memory Locked" will show on both Thursday May 26 and Friday May 27 at 7:30 p.m. with a reception beginning at 6:30 p.m. Admission is by donation to help send this group to Edinburgh, Scotland for The Edinburgh Fringe Festival in August.
Kevin Self at Naked Winery
Friday, May 20, 4-7 p.m. Kit Garoutte – Kit was recording for an upcoming live album at Naked Winery last week — and he'll be back this week with his guitar.
Saturday, May 21, 7-10 p.m. Kevin Self and The Tornados — 2010 Muddy Award Winner for Best Traditional Blues Act (Cascade Blues Association) and pretty darn fun to see live.
Sunday, May 22, 5-7 p.m. Ben Bonham - Ben's steel guitar playing is rooted in the music of pre-radio America when all music was live and styles weren't pigeonholed.
Monday, May 23, 7-10 p.m. Naked Winery's open mic/Jam hosted by Les Vaughn. Lots of new artists showing up lately showing their talents.
NEW: Tuesday, May 24, 6:30-8:30 p.m. Jazz at Naked Winery featuring Chic Preston, Ryan Kolberg, and Mike Stillman. Join us for jazz, funk, soul, pop, swing, and shuffle blues. Come dance with us!
SAVE THE DATE: The Hit Machine returns First Friday June 3, 7:30-10:30 p.m. — It will be DRO (Dancing Room Only) all night long.
Sunshine Mill has open mic
The "amphitheater" at The Sunshine Mill In The Dalles is the perfect place for the weekly Wednesday night open mic event. Signup is at 6:30 p.m., show at 7 p.m. Contact Les Vaughn (guitarman1943@hotmail.com) for more information.
House concert scheduled June 1
Aaron Keim, a member of the band Boulder Acoustic Society, has played at both Families in the Park and the Gorge Ukulele Festival. Keim is performing a house concert at 401 Montello, Hood River, on Wednesday, June 1, at 7 p.m. He cites Cormac McCarthy, the Brothers Grimm, Tom Waits and Woody Guthrie as main influences, and has reportedly recorded his last album on wax cylinder. For more information call 541-387-4011.
'Gravity Project' at Everybody's
Who loves reggae? Everybody loves reggae! Join the fun Friday, May 20, as Everybody's Brewing rocks with the Gravity Research Project — providing bass dub and afro funk reggae-tastic sounds. Everybody's Brewing, 151 E. Jewett Blvd., White Salmon, Wash; 509-637-2774.
Bigfoot Band at wine festival
Join Tim Mayer, Tim Ortlieb, Char Mayer, Ryan Kolberg and Rick Hulett — also known as the Bigfoot Band — as they rock with funky soul in a high energy, booty-shakin' bonanza. Hood River Pear & Wine Festival (tickets required), at Hood River's Western Antique Aeroplane Museum, Saturday, May 21, 3-5 p.m. On Sunday, from noon-2 p.m. the guys play a quieter set as a quartet.
More like this story
Latest stories
Latest video:
Advertisement: The Men of Black Friday
The secret agents of Big Winds may not exactly be Tommy Lee Jones oand Will Smith, but they still discovered there is plenty of strangeness to be found in Hood River...especially once winter sets in. Enlarge