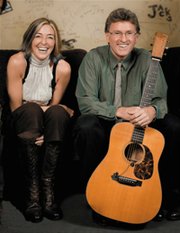 Maryhill Winery celebrates
Celebrate Memorial Day weekend with live music at Maryhill Winery from 1-5 p.m. outside under the arbor. Saturday, May 28 - Wayman Chapman (blues, soul); Sunday, May 29 - Carlyle (pop, jazz); Monday, May 30 - Savant Garde (pop, rock, acoustic). Maryhill Winery, 9774 Hwy. 14, Goldendale, Wash.; 877-627-9445.
'Cross-Eyed' at Red Carpet
The classic rock band Cross-Eyed Connie will be rockin' the Red Carpet Inn on Memorial Day weekend, Saturday, May 28, from 8 p.m. to midnight. As usual, there will be no cover charge. Red Carpet Inn, 3631 Cascade Ave., Hood River, 541-386-6664.
Relay for Life fundraiser concert
There's a concert and ice cream social to benefit Relay For Life, the American Cancer Society fundraiser, on Saturday, June 4, at the grange in White Salmon (1085 N. Main Ave.). Music provided by The Gorge Fiddleheads from 2-4 p.m. Donations accepted at the door.
Lewi Longmire at Cebu Lounge
Cebu Lounge at the Hood River Inn welcomes renowned NW multi-instrumentalist, roots rockin', country pickin', jam-master and side-man extraordinaire Lewi Longmire and his band Friday, May 27, at 9 p.m. No cover charge, 21 and-over. Known for his work with the Freak Mountain Ramblers and many others, Longmire has built a reputation as Portland's multi-instrumentalist "go-to guy."
John Bunzow at The Pines
On Thursday, May 26, join Kerry Williams and Friends Jam from 6:30-9:30 p.m. From mandolin, trumpet, sax and harmonica, the music is always fresh and the wine delicious. On Friday, May 27, from 6:30-9:30 p.m. put on your dancing shoes and move your feet to the motion: the LoLo Motion! Enjoy an interesting blend of funk and blues. On Saturday, May 28, John Bunzow plays from 6:30-9:30 p.m. Featuring amazing guitar skills and sounds that lean towards roots rock/Americana — which is a mix of blues rock and country.
Hillbillies at HR Hotel
The music lineup at the Hood River Hotel this week includes Mike Stillman and friends on Friday and Saturday, May 27-28, from 6:30-8:30 p.m. On May 30, Memorial Day, the Hapa Hillbillies will be playing from 6:30 to 8:30 p.m. in the lobby.
'Backwards Saddle' play May 28
The Thirsty Woman Pub in Mosier is proud to present Backwards Saddle, the acoustic duo featuring Maupin's Marty and Mark — they will have your toes tapping with a show not to be missed. Saturday May 28, 7 p.m. Thirsty Woman Pub, 904 Second Ave., Mosier, 541-478-0199; www.thirstywoman.com
Klas, more at Sunshine MIll
The Dalles' Sunshine Mill hosts an open mic with Les Vaughn every Wednesday from 7-10 p.m. On Friday, May 27, it' live music with Tracy Klas in the amphitheatre from 7-10 p.m. On Saturday, May 28, Lolo Motion plays from 7-10 p.m. Save the Date: Saturday, June 18: Bluegrass & Barbecue Festival to support the restoration of The Dalles Civic Auditorium. Bands include: Greenish Grey, Back Porch Revival, Blackstrap Bluegrass and The Shed Shakers. Noon-10 p.m., tickets $10.
Last Friday at Solstice Cafe
Bingen celebrates the Last Friday of the month at Solstice Cafe with music, art and wine. Enjoy vocals by Carinne, wine by Marchesi and Syncline and art by Out-There Photography. 6-8 p.m. Free admission.
Robinson, Nunally play library benefit May 27
Two nationally known musicians will be making a stop in Hood River on Friday, May 27, for a benefit house concert for the Hood River County Library. The show will be at 401 Montello, Hood River. Suggested donation is $15. Nell Robinson and Jim Nunally have created a brand-new harmony-driven duo, reminiscent of classic country duets like George Jones and Tammy Wynette as well as singing siblings like the Louvin and Stanley Brothers. Alongside their own original material, Nell Robinson and Jim Nunally cover music ranging from Bill Monroe to Nine Inch Nails. Nell's debut CD, "Nell Robinson in Loango," made national bluegrass and Americana charts throughout the country and she was quickly snapped up by Garrison Keillor's A Prairie Home Companion and Strawberry Music Festival. Jim Nunally is a world-class guitarist, vocalist and songwriter, and has toured extensively with the David Grisman Bluegrass Experience and John Reischman. He is the recipient of two Grammy Award certificates and two IBMA awards. He is also a two-time Western Open Masterpicking Champion and Guitar Champion. His most recent CD, "Gloria's Waltz," showcases his distinctive pickin' and singing. At this benefit concert, the duo will also be previewing material from Nell's new CD, "On the Brooklyn Road."
More like this story
Latest stories
Latest video:
Advertisement: The Men of Black Friday
The secret agents of Big Winds may not exactly be Tommy Lee Jones oand Will Smith, but they still discovered there is plenty of strangeness to be found in Hood River...especially once winter sets in. Enlarge