Wednesday, November 2, 2011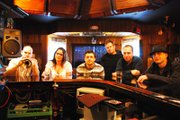 Jim Drake's Entertainment blog
Please don't send me flowers, And I won't sing you love songs
Does the above headline sound somewhat familiar? It's a lyric from the new song "Something Bad" by Portland band The Druthers.
Funny enough, the vocals in their new song are done with a man and a woman duet too. To me, this lyric of the song, (which only lasts for something like half a verse) reminded me of the 1978 duet "You Don't Bring Me Flowers" from Neil Diamond and Barbra Striesand.
I should know, right? I mean, we had that 8-track hanging around.
So, you know me by now but I just had to ask. Was the writer of "Something Bad" just twisting these song lyrics around?
From lead singers Kirk Duncan and Erin Adkisson's answer I'd have to say in this case, I don't think so.
But it amazes me that it can take 33 years to unknowingly create a random song that sounds like it was influenced by another random song.
The Druthers, with their "heart-sweeping folk/pop with his and hers vocals" will be playing at Hood River's CEBU Lounge on Friday, Nov. 4.
1. The first thing I noticed on your CD packaging was the words "recorded in the finest living rooms." That is so true for most of today's bands. How long has your band been around, and how much time did you spend on your new CD "Everyday Ghost?"
The Druthers have existed for about two years now. Although, many of us have known each other and played music together for longer than that. We spent about nine months from start to finish on "Everyday Ghost." A few songs were recorded live and all at once initially...but all but two ("High Chatter" and "I Shouldn't Say What I'm Saying") have various over-dubs. Living room studios included: a beach house in Lincoln City, lead vocalist Erin Adkisson's living room and keyboard/trumpet player Jeff Simpson's bedroom.
2. Now, my next question is one that the younger generation may or may not understand, and it may shed light on what generations you guys are from (and perhaps me, too). In listening to the song "Something Bad," did I detect sort of a "Neil and Barbara" moment?
Yeah, you are on the right track ... but to be honest, I had to look up what you meant by a Neil and Barbara moment. "Something Bad" may be about a much more contentious relationship though. One person knows they're an idiot and the other is just trying to find the strength to say "no more."
3. A couple of your songs have lyrics that seem to hone in on some of the basics, —counting, vowels, kids songs — is this intentional throughout? Besides relationships where does the songwriter get his ideas?
I pull ideas from my life. I believe that the basics can be just as powerful as specific details. I'm a music lover ... all kinds ... I try to create songs with strong melodies and an honest message.
4. Besides your new CD, what else do you guys play? Are your shows more upbeat or more sit down and listen? (CEBU can get kinda noisy . . . )
We don't do many covers, but we do a song by Seven Mary Three, "Mercedes Benz" from Janis Joplin, "Tell Me Something Good" by Chaka Khan, and maybe a few others here and there. Our shows are much more upbeat than anything else, which is a little funny, because we actually have more "sad bastard" songs by far. But, we realize most people don't want to be bummed out on a Friday night. When we play a sit down show, we play our best music. But I promise we will keep it lively at the Cebu Lounge.
5. How did your band name "The Druthers" come into being? What exactly is a druther?
Our name comes from an early American phrase "I'd rather," which over time became "I'd ruther," or "if I had my druthers." If we had our druthers we would be making and performing music for a living ... maybe someday.
6. I thought my eyes were decieving me, but it could have been the bifocals, too. I counted 9 tracks on the cover but the CD player said 10. Is there a secret message hidden in that extra track somewhere?
No, no secret message. A version of the last song, "I Shouldn't Say What I'm Saying," was originally on Kirk Duncan's first CD. We recorded the "Everyday Ghost" version in one take and really wanted to add it to the collection, but didn't want to list it in hopes that it stood out as something completely different than the rest of the tracks. It's just an added bonus.
More like this story
Latest stories
Latest video:
Advertisement: The Men of Black Friday
The secret agents of Big Winds may not exactly be Tommy Lee Jones oand Will Smith, but they still discovered there is plenty of strangeness to be found in Hood River...especially once winter sets in. Enlarge