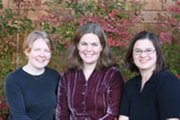 Music at Maryhill Winery
This weekend and next Maryhill Winery in Goldendale, Wash., features regional bands in the tasting room from 1-5 p.m.; Saturday, Oct. 8, Ben Macy & Friends (jazz); Sunday, Oct. 9, Tracy Klas (old-school vocals). Next weekend: Saturday, Oct. 15, Brian Granse (solo artist - host of "Road Trip Nation"; Sunday, Oct. 16, Kit Garoutte (fingerstyle guitar).
Windwood Trio at HR Hobbies
Miko Ruhlen, Tova Tillinghast and Melissa Arndt are the Windwood Trio — an eclectic mix of latin, blues, jazz and classical played on flute, cello and violin. They will be at Hood River Hobbies during the First Friday celebration on Oct. 7, from 5:30-7 p.m. Hood River Hobbies, 110 Fourth St., Hood River.
Variety show needs acts
Columbia Arts wants you for its second variety show coming on Nov. 19. If you'd like to show off your talent to a hometown audience, please consider Columbia Center for the Arts' "The Really Big Show." There will be a meeting on Sunday, Oct. 9, at 4:30 p.m. to preview your talent and a rehearsal on Nov. 13. "The Really Big Show" is looking for a wide variety of talent, singers, dancers, instrumentalists, jugglers, stand-up comics, group skits/improv — all encouraged to show their skills. Any act will be considered, so use your imagination. Contact Catherine Butler by email (performance@columbiaarts.org) or call 541-387-8877, ext. 117, to see about joining the fun.
John Bunzow at The Pines
Thursday nights continue at The Pines in Hood River with Kerry Williams & Co. from 6:30-9:30 p.m. Join Kerry Williams and his musical compadres as they rock The Pines with their impromptu solos and smooth vocals. On Friday, Oct. 7, John Bunzow returns from 6:30-9:30 p.m. Bunzow's eclectic music is a melting pot of influences ranging from Dylan to Elvis Costello to Merle Haggard and Tom Waits. Bunzow's powerful guitar playing fuses blues, R&B and country.
Will West at CEBU Lounge
The Friendly Strangers are a rotating band of musicians that join Carolina-born songwriter Will West for live performances, blending traditional instrumentation and old-time inspirations with a modern twist, to create a signature acoustic sound. Join them Friday, Oct. 7, at 9:30 p.m. at CEBU Lounge. On Saturday, Oct. 8, don't miss Portland's French Troubadour — Eric John Kaiser — starting at 8 p.m. Kaiser delivers a modern pop-rock sound fusing rock, hip-hop and reggae wrapped in sophisticated French lyrics. Think Manu Chao meets the 1969 Rolling Stones.
Rawson at house concert Oct. 7
Join folksinger Tom Rawson for an evening of humorous stories, user-friendly songs and acoustic folk philosophy that's guaranteed to leave you smiling. Friday, Oct. 7, at 7 p.m. at 401 Montello, Hood River. $15 suggested donation.
Lost City at Everybody's Oct. 7
Rose City Rockers Lost City will be at Everybody's Brewing in White Salmon, Wash., on Friday, Oct. 7, starting at 9:30 p.m. No cover charge. From the band's website: What makes a great band? Hooks and melodies? Insightful lyrics? An energetic live show? For Portland, Oregon's Lost City, these all come standard. What they really hope sets them apart, though, is their sincerity. "We all come out of the punk rock scene, where things can seem a little forced," says singer/songwriter Dylan Summers. "We started Lost City with the intention of being entirely upfront and honest with what it is we want to do and how we want to do it." For Summers, bass player Travis Shoemake, guitarist Andrew Wicker and drummer Chris DeSanto, this meant embracing the ethos of American rock & roll—the anthemic sound of Petty and Springsteen (among others) that the punk police would have turned their noses up at. "We don't want to be pigeonholed into some kind of punk-gone-indie band," adds Summers, "and we'll always have that punk element to our sound. We cut our teeth to punk rock, and we'll never let that go. But we want Lost Ci City to be the band that sounds just as good on a Sunday morning as it does on Saturday night. We want to write music that we can still be playing when we're 40, 50 years old. Hopefully we're on the right track." Only a few months old, Lost City has had the good fortune of being able to dive right into the show circuit, with several shows played to near capacity crowds in Portland, Tacoma, Seattle, and Bend. A three song demo will have to tie over hungry fans until Lost City hits the studio in the fall to record their debut record. For booking/press inquiries, please contact band management at lostcityrosecity@gmail.com. Lost City is represented on most notable social networks, easily accessible via www.lostcitypdx.com.
More like this story
Latest stories
Latest video:
Advertisement: The Men of Black Friday
The secret agents of Big Winds may not exactly be Tommy Lee Jones oand Will Smith, but they still discovered there is plenty of strangeness to be found in Hood River...especially once winter sets in. Enlarge