Tuesday, October 11, 2011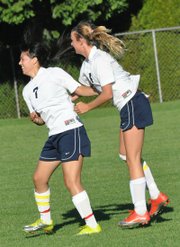 The Hood River Valley girls soccer team was sick of losing.
After dropping its first six matches to start the season, the Eagles put together their best game so far and beat the Woodburn Bulldogs 2-0 Wednesday afternoon in Hood River.
Roxy Gomez got a goal in each half to pace HRV, which countered Woodburn's physical play by creating numerous scoring chances.
"We really made it through some tough spots," HRV coach Kevin Haspela said, adding it was important for the Eagles to establish a tone of play before they head into league matches.
The Eagles host Pendleton in their league opener Tuesday then hit the road to Hermiston eight days later to play the No. 4-ranked Bulldogs.
In the opening six losses the Eagles had just two goals, both on set pieces. However it was the second goal, a strike by Andria Braniff in a 2-1 loss to No. 5-ranked West Albany Saturday, that Gomez said helped get the Eagles back on the right track.
"It started against West Albany," she said. "We only lost by one and knew we could play against them."
HRV carried that momentum over to the Woodburn game.
For the first time this season the HRV offensive attack found its legs and constantly pressured the Woodburn defense. A shot by Emily Thompson hit the post in the opening minutes, and several other HRV chances went just over or wide in the ensuing 30 minutes.
The Eagles got a break in the 32nd minute when Gomez intercepted a poor clearance pass, and then converted it by pounding it into the net.
She would score again in the opening moments of the second half when Sarah Clark served a perfect free kick into the box. Gomez knocked it down and then slotted it past the Woodburn keeper for a two-goal advantage that the Eagles would not relinquish.
The Eagles played a brutal non-league schedule against many of the top teams in the state, including an 8-0 loss to Sherwood, the odds-on favorite to win the 5A state title.
"We had really good challenges," Gomez said. "Those challenges made us stronger and helped a lot."
Haspela said the defense has grown stronger in the efforts against West Albany and Woodburn and that the team is now starting to get more comfortable going on the attack.
"Our offensive and attacking instincts have been dulled a bit because we've been playing so much defense," he said. "But now we can sharpen them."
Now the team can wipe the slate clean and focus on its league matches. It enters league play solidly in the middle of the pack of 5A teams, ranked No. 22, a position which they hope will improve with some league wins.
"We've been waiting for it," Gomez said of the victory over Woodburn. "We are more confident in ourselves and each other."
Latest stories
Latest video:
Advertisement: Local Appreciation Sale at Big Winds