United Way benefit Dec. 9 with Aaron Meyer
It's a holiday benefit concert with violinist Aaron Meyer and his 6-piece band on Sunday, December 9, at 3:30 p.m. at the Gorge Room at Best Western Plus in Hood River. Preferred seating tickets are $45 which includes a pre-concert party with Aaron at 2:15 p.m.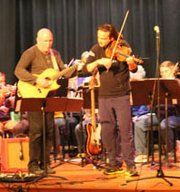 General admission is $20, kids (under 12) $15. Tickets on sale at Waucoma Bookstore and Best Western Plus Hood River Inn; or email unitedway@gorge.net.
All proceeds benefit United Way of the Columbia Gorge. Concert is sponsored by Hood River Inn, Insitu, Pacific Power, Hood River Physical Therapy, Hood River Sister City program, Providence Hood River Memorial Hospital, Hood River Distillers, Hood Technology and Don and Bonnie Benton.
'Ingredient' film screens at Rockford Grange Dec. 9
The movie "Ingredients" will be shown at Rockford Grange, 4262 Barrett Drive, Hood River, on Sunday, Dec. 9, at 6 p.m. Free admission; suggested donation $5. There will be discussion and snacks will be available after the film. The movie is sponsored by Azure Standard of Dufur.
About the movie:
At the focal point of this film are the farmers and chefs who are creating a truly sustainable food system. Their collaborative work has resulted in great-tasting food and an explosion of consumer awareness about the benefits of eating local.
Attention being paid to the local food movement comes at a time when the failings of our current industrialized food system are becoming all too clear. For the first time in history, our children's generation is expected to have a shorter lifespan than our own. The quality, taste and nutritional value of the food we eat has dropped sharply over the last 50 years.
Shipped from ever-greater distances, we have literally lost sight of where our food comes from and in the process we've lost a vital connection to our local community and to our health.
A feature-length documentary, "Ingredients" illustrates how people around the country are working to revitalize that connection. Narrated by Bebe Neuwirth, the film takes us across the U.S. from the diversified farms of the Hudson River and Willamette valleys to the urban food deserts of Harlem and to the kitchens of celebrated chefs Alice Waters, Peter Hoffman and Greg Higgins.
The movie is a journey that reveals the people behind the movement to bring good food back to the table and health back to our communities.
The Groove Project plays Dec. 19
Columbia Center for the Arts presents "The Groove Project Grooves Christmas" on Wednesday, Dec. 19, at 7 p.m. "The Groove Project Grooves Christmas" features local musicians including Tim Mayer, Rick Hulett and others performing unique renditions of holiday favorites. Tickets are $10 for adults and $5 for children, seniors and students.
"The Groove Project Grooves Christmas" promises a family-friendly evening of great music and great friends performing holiday standards with a jazzy, funky, soulful twist including: Silent Night, Go Tell it on the Mountain, Have Yourself a Merry Little Christmas, Santa Claus is coming to Town, Do You Hear What I Hear and more.
Holiday sing-along in Bingen
On Sunday, Dec. 16, from 4-6 p.m., there will be a holiday sing-along at the Bingen Theater in Bingen, Wash. featuring musicians Victor Johnson, Kerry Williams and others. Donations will be accepted for local food bank programs. Don't miss out on this annual family event.
Snowboard film screens Dec. 14
MonsterHutch.com will present the snowboard video premiere of Jeremy Jones' "Further: The Journey Is the Reward," on Friday, Dec. 14, at the Waucoma Club, 207 Cascade Ave., Hood River.
The show will start at 6 p.m. for all ages, with the Hood River Valley High School snowboard team presenting, and again at 9:30 p.m. for those 21 and over. Admission is two to four cans of food to benefit the FISH food bank.
Music, more at Clock Tower Ales
Here are the Clock Tower Ales Events for December:
Dec. 7 — Jager Bumz at 9:30 p.m.
Dec. 9, 13, 20, 27 — Trivia night at 6:30 p.m.
Dec. 11, 23, 30 — 15 Minutes of Fame at 7 p.m.
Dec. 16 — Dave Tallam at 8 p.m.
Dec. 21 — Holiday Family Sing Along at 7 p.m.
Dec. 28 — Music from Maiden NW at 9 p.m. (Iron Maiden tribute band)
Clocktower Ales, 311 Union St., The Dalles; 541-296-2602.
Entertainment listings can be e-mailed to jdrake@hoodrivernews.com
More like this story
Latest stories
Latest video:
Advertisement: Local Appreciation Sale at Big Winds