Tuesday, December 18, 2012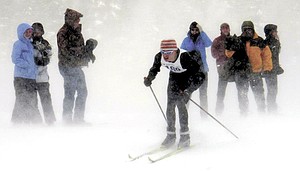 The Hood River Valley Nordic ski team traveled to Bend over the weekend for the first race of its winter schedule. Both HRV boys and girls teams placed third overall in the 5K Classic, held Saturday at Meissner SnoPark. The field consisted of racers from eight boys teams and 11 girls teams.
Leading the way for the HRV girls squad was Delia Dolan, who finished ninth out of 81 racers with a time of 22:16. Grace Grim and Althea Dillon rounded off the top three for the team in 14th and 18th place, respectively. Sam Wiley finished out front for the HRV boys with a 5K time of 17:33.5; good enough for eighth place out of 58 overall. Nils Engbersen finished 13th and Mason McDowell 25th to represent the only other HRV boys in attendance.
Conditions for the race started out clear and cold with sun breaks, but quickly deteriorated into driving wind and snow. Keeping warm both before and after the race became a high priority as both teams had to race in the worst of the storm.
The team competes in the Oregon High School Nordic Organization league and has six races between now and early March. The next meet will be Jan. 12 at Hoodoo Ski Area. The team then hosts a race at Teacup Nordic on Jan. 26. A complete team feature will run next week in the Hood River News.
Saturday race results
Girls (81 total):
Delia Dolan, 9th
Grace Grim, 14th
Althea Dillon, 18th
Eva Kahn, 23rd
Denali Emmons, 26th
Lauren Robinson, 27th
Miranda Starr, 31st
Naomi Greenwald, 45th
Maddie Ticknor, 59th
Ellen Hudon, 64th
Boys (58 total):
Sam Wiley, 8th
Nils Engbersen, 13th
Mason McDowell, 25th
More like this story
Latest stories
Latest video:
I Can't Keep Quiet singers at "Citizen Town Hall"
'I can't keep quiet,' sing members of an impromptu choir in front of Hood River Middle School Saturday prior to the citizen town hall for questions to Rep. Greg Walden. The song addresses female empowerment generally and sexual violence implicitly, and gained prominence during the International Women's Day events in January. The singers braved a sudden squall to finish their song and about 220 people gathered in HRMS auditorium, which will be the scene of the April 12 town hall with Rep. Greg Walden, at 3 p.m. Enlarge