Wednesday, February 8, 2012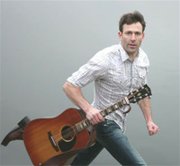 Jim Drake's Entertainment Blog
Someone's in the kitchen with Dinah, strummin on the ol' trashcanjo*
Ah, yes, that's one of the earliest songs I remember. It had to be third or fourth grade. It was a simple song called "Someone's in the kitchen with Dinah."
I don't think I can print all the words here, that would be a copyright infringement. But let's just say the song is about a certain "Dinah," who is apparently in the kitchen. The next line alludes to everyone "knowing about it" and then, in the last lines, she is strumming the banjo.
Go figure.
Singing along in that music class is one of my distinct childhood memories. You know the kind — when you get 25 blissful seconds of clear memory — from over 37 years ago. I remember our gray-haired music teacher desperately trying to lead us through the song.
And then, the rest of the class was centered on mastering the technical aspects of the "tonette." After that — it's a memory blackout. Maybe it was on to recess, or lunch, I don't know. Which got me to thinking.
Songs. Where on earth do they come from? And why after all this time, do I remember that one, like it was yesterday?
The point is, this song about Dinah did come from somewhere. Now, I learned the words before the days of instant Google searches and digital downloads. And I bet the music book I learned it from may have contained a blurb about the origin of the song, or even the original writer.
But that's not what I remembered, the
song
is what I remembered. And it stuck with me all this time. Hood River, you have an opportunity coming up to hear some more songs. Not by one, but by three different guys.
And the material for this show is going to be so varied and so unique, I'm betting that someone from the audience is going to remember one of those songs. Possibly for the next 37 years. And they too, will forget who wrote it or where it came from.
But it won't matter. It's the
song
they'll remember.
*Oops, I mean "banjo" not "trashcanjo." I'm not sure where that came from. Oh, wait, it came from the interview I did last week. That's where it came from. You'll need to go online to my blog at hoodrivernews.com to read it, because I ran out of space here.
Three unique songwriters — J.L. Stiles, Capt. James Cook, and Hood River local Ben Bonham — pool their resources for a singer-songwriter show at the Columbia Center for the Arts on Sunday, Feb. 12. Tickets are $10 and the show starts at 7:30 p.m.
Interview with Ben Bonham
Over the years you've probably played every venue in Hood River. How does it feel to finally be able to play in a place, like the arts center, where folks can actually sit down and listen to live music, without all the distractions?
It will be a treat and I can't wait. That room is the best sounding room in the area and the chance to play for an attentive audience there is just terrific. Also the staff work really hard and understand musicians needs and the audiences needs - so this all adds up to the best possible experience for everyone. I am truly delighted to be asked to do this, especially with JL and the good Capn'
You play a specialized type of guitar, a steel-bodied national resonator. What year is it from and how did you acquire it?
I actually have a couple - one from 1929, given to me by a good friend from the UK - the other from 1927 (very early in the production of this instrument) - given to me by a chap down in California. He saw me playing my other one on the street one day and asked if I would like his! For many years now I have specialized in the art of being given fine guitars, it really is a lot better than having to buy them.
Your influences for music are many, will you be concentrating on one genre in particular for this show?
Well as this is a songwriter show, and it will all be music and words made up in my own head - without the help of an adult. I'm sure my friends would love to classify all my tunes as 'rubbish' but it's more accurate to say that the ones I write tend to lean to the early jazz and early county blues side of things - and even though I often try to write serious, contemplative material, most of my stuff is quite silly really. In the past few years I have gone through phases of writing a song every day - its a great discipline and just by the law of numbers you get some good songs!
Interview with James Cook
You're known for making homemade instruments out of trashcans and recycled materials. How did you get started making these things and which ones will you be bringing to the Gorge on Feb. 12?
It all started about ten years ago when I was playing upright bass in a bluegrass band. I wanted something less expensive and delicate to haul around (after touring several years with the upright bass, it needed extensive, and expensive repairs) so I started experimenting with washtub basses. After much research and development a design emerged using a 20 gallon trashcan and a fixed neck with a single string. It sounds remarkably like an upright bass. With this success I jokingly thought of having an entire band using home made instruments, and proceeded to build my first "Trashcanjo", a banjo made out of a trash can. I will be bringing the Trashcanjo, and possibly a trash can bass to the show.
What drew you to the early jazz style most of your songs emulate?
In the mid 1990s I played bass in a ragtime jugband called "Jimbo Trout and the Fish People." This was my first exposure to vintage vocal jazz, and I immediately fell in love with the witty lyrical humor and fast paced chord changes. Artists like Fats Waller, Hoagy Carmichael, and Duke Ellington really set the standard for me.
There's a rumor you've written over 1,000 songs. Can you remember anything about the first song you wrote?
I do remember much of my early writings. I have boxes full of notebooks and papers with all my lyrics, and hundreds of old cassette tapes that I used to record my ideas on. Occasionally I will sift through them and rediscover a forgotten gem from years ago. As with any craft, I feel my best material is still being written, or will be in the future, so I often prefer to play what is recent and fresh. My first song, called "Life goes on, again" describes the happenings in a small town square. It's a decent tune, even by my current standards. As with most of my music, it tells a story with surprising twists and turns.
Audio Preview
Song Beside My Grave by J.L. Stiles
Shadows by Capt. James Cook
All About Love by Ben Bonham
More like this story
Latest stories
Latest video:
Advertisement: The Men of Black Friday
The secret agents of Big Winds may not exactly be Tommy Lee Jones oand Will Smith, but they still discovered there is plenty of strangeness to be found in Hood River...especially once winter sets in. Enlarge