Wednesday, February 8, 2012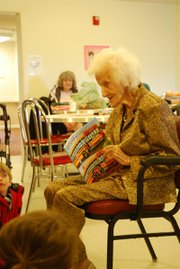 Writing books was always a joy for Kay Dahlquist of Hood River, the Hood River News reported in its Feb. 1 edition. Reading them to children is an even greater one. The author, 97, still looks for opportunities to read to local school kids. She lives at Hawk's Ridge Assisted Living, where a group of pre-schoolers from Bambino's International Learning Center got to hear Dahlquist read from her book "Kindergarten At Last." It was a fitting subject for kids who next year will start "regular" school. n "I can't describe how I felt when my first book was handed to me," said Dahlquist, who began writing in her 80s. "I was up in the sky. I can't believe how popular they've been." Dahlquist raised six children, including Sharon Guidera of Hood River. She has 12 grandchildren and 24 great-grandchildren Her books, all written by hand, are "The Kindergarten Mystery and The Wee House"; "The Little Brown Donkey"; Hopalong's Adventure" ; and "Kindergarten At Last." Irish folk tales and her own experiences as a kindergarten teacher for 14 years influenced her stories. Becoming an author late in life,"just happened," she said. "I don't really know. I sat down one day and began to write and before I knew it I had a book." Reading to the kids was her favorite part of teaching: "I liked reading to them, discussing the book with them," she said. Children inspired her stories "100 percent" but she turns to another Author for how the stories came to her. "You have to ask the good Lord that. I don't know. It just came from him."
More like this story
Latest stories
Latest video:
I Can't Keep Quiet singers at "Citizen Town Hall"
'I can't keep quiet,' sing members of an impromptu choir in front of Hood River Middle School Saturday prior to the citizen town hall for questions to Rep. Greg Walden. The song addresses female empowerment generally and sexual violence implicitly, and gained prominence during the International Women's Day events in January. The singers braved a sudden squall to finish their song and about 220 people gathered in HRMS auditorium, which will be the scene of the April 12 town hall with Rep. Greg Walden, at 3 p.m. Enlarge