Wednesday, February 22, 2012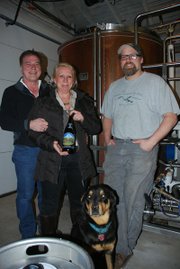 A bridge to Belgium starts two miles south of Odell.
Brewmaster Dave Logsdon and the rest of the team at Logsdon Farmhouse Ales will hold their first public event on Feb. 18, as one of three local stops on the statewide Zwickelmania brewery tour (see details at right).
It's a sort of first-anniversary party for the brewery, which released its first beers in February 2011.
Logsdon, long one of Oregon's premier brewers and makers of yeast, and brewer Charles Porter create distinctive ales in the Belgian farmhouse style known as "saison," giving the Logsdon products the name Seizoen, the Flemish translation. (It is pronounced "sez-yoon," notes Belgian native and Flemish speaker Judith Bams, one of the six members of the Logsdon cooperative.)
Bams regularly brings back Belgian ale samples for Logsdon to use in crafting the complex yeasts that go into the ales, and Bams also provided a key horticultural connection from Flanders to Hood River valley: She saw to the import of 100 sour cherry trees known as schaarbekse ("shar-beks-uh) that are currently in quarantine in Portland. Soon they will be planted on the Logsdon property and within three years will be the base for the brewery's cherry ale.
Ales from cherries, peaches and raspberries are a Belgian staple, and Logsdon will issue its Peche (peach) beer this spring, followed by Cerasus, a cherry ale, both now made from fruit grown in Parkdale.
Said Logsdon, "The peach goes really well with the Bretta beer," named for the special brettanomyces yeast.
Somewhat surprisingly, pears make their way into the Seizoen ales and Kili Wit, the three brews in the permanent Logsdon fleet.
"As far as I know, we are the only brewery in the world using pear juice," said Logsdon, who has more than 30 years' experience in brewing and culturing of yeasts; starting as Oregon's premier home brewer in the 1970s and 1980s.
"We're very pleased with how it turned out," he said. "We layer it in during fermentation, and get a lot of fruitiness from it. This is just another layer of complexity.
"When we started producing the Wit, we weren't sure (about including pear juice). It's a more delicate beer, and wouldn't typically have pear in it or anything unusual. We tried it with dextrose and with pear, and found the pear is better. It's rounder and has more fruitiness to it that kind of complimented the beer."
The pear juice is from Hood River valley and the hops are grown on the farm and in the Hood River and Tygh valleys, fulfilling Logsdon's preference for local and organic ingredients to go with the world-class Hood River valley water in making his ales.
The Bing cherries and peaches in the fruit beers are from Lava Bed nursery; within three years, most of the Logsdon cherry beer will be made from its own cherries, once the newly planted schaarbekse are mature.
Local farm ingredients are at the heart of making farmhouse ales such as saisons, which were historically produced in rural settings, as the name implies, for consumption in the summer season. That's when farm workers needed a low-alcohol alternative to the suspect local summertime water supply.
The Logsdon ales are unfiltered and "rustic," like their Belgian cousins, but about a third higher in alcohol content (at 5-6 percent) than traditional farmhouse ales.
The Logsdon ale labels depict the waters of Mount Hood turning into a waterfall near the barn and flowing into a rounded Belgian ale glass. The labels are multi-lingual, just like Belgium, with French and Flemish joining the English.
Yet another language appears on the label of Kili Wit, a light-colored thirst-quencher with a dry finish. The Wit bears the phrase "bia jeupe," Swahili for white beer.
The beer combines, less oddly than you might think, the name of an African mountain and the Flemish word for white. The label bears the image of Tanzania's Mount Kilimanjaro. Logsdon explained that proceeds from the sale of Kili Wit go to the K2 Foundation, which makes expeditions to Kilimanjaro and other parts of the world for handicapped children, wounded soldiers and people with disabilities. K2 is building a medical center near Kilimanjaro via donations by people the foundation guides in expeditions.
"That's why the label is strikingly different, but still has the farmhouse on it," Logsdon said. "It's something we felt would be a nice thing to do, to contribute a little bit of what we're doing to people who need it."
Logsdon co-founded Wy'east Laboratories in 1984, creating and marketing yeasts for distribution all over the world, from the same Neal Creek farmhouse.
In 1985 he signed on as brewmaster for the fledgling Hood River Brewing Company (now Full Sail) and remained there for eight years while also helping run Wy'east. That company moved to larger quarters in Odell after a few years, and Logsdon sold his portion of the business three years ago.
More like this story
Latest stories
Latest video:
I Can't Keep Quiet singers at "Citizen Town Hall"
'I can't keep quiet,' sing members of an impromptu choir in front of Hood River Middle School Saturday prior to the citizen town hall for questions to Rep. Greg Walden. The song addresses female empowerment generally and sexual violence implicitly, and gained prominence during the International Women's Day events in January. The singers braved a sudden squall to finish their song and about 220 people gathered in HRMS auditorium, which will be the scene of the April 12 town hall with Rep. Greg Walden, at 3 p.m. Enlarge