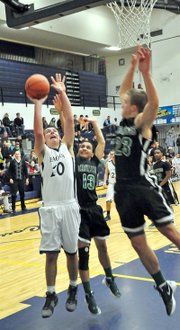 After getting so close to its first win of the season, the Hood River Valley boys basketball team was upset, but also happy.
"They are beginning to realize what they are capable of," said HRV coach Steve Noteboom after the Eagles and Parkrose Broncos went back and forth in a physical, high-energy game Thursday with the Broncos prevailing in overtime, 58-54.
"We had seen that intensity at times before but we just couldn't sustain it," Noteboom said.
After both teams went hard in the first four quarters, with both repeatedly forcing turnovers which led to the 48-48 score at the end of regulation, neither had much left to give in the extra period.
After Parkrose scored four quick points on lay-ups to open overtime, nine of the final 12 total points scored between the two teams would come off free throws.
After the quick scoring burst, Parkrose began attempting to play stall ball with nearly three minutes left to play, and unable to jump the passing lanes, the Eagles were forced to foul.
The strategy of relying on free-throw shooting to close out the game nearly backfired on Parkrose, though.
The Broncos made just four of eight free-throw attempts, allowing HRV to stay in the game.
With 51 seconds left, the Eagles rebounded a missed free throw and streaked down the court, where Ryan Wheat knocked down a three-pointer to pull HRV to within two at 56-54.
At the other end, though, the Broncos were finally able to convert back-to-back charity shots, Marquis Hammick doing the honors. The Eagles turned the ball over on their ensuing possession and the Broncos ran out the clock for the win.
Hammick led the Broncos with 21 points while 6'9 center Orlando Vance added 16.
Wheat led HRV with 20 points while Cody Walker and Tory Schmidt had 12 each.
"More people are scoring now," Wheat said of what got the Eagles pointed in the right direction. "And we are playing really hard on defense."
Wheat did the bulk of his scoring in the first half, scoring 13 of his points in the first 16 minutes of play. Wheat's offense helped the Eagles match the Broncos nearly step-by-step and go into the half trailing 27-25.
Walker and Schmidt carried the Eagles down the stretch with Walker scoring 11 of his points in the second half, including seven on free throws as he repeatedly drove to the hoop and was fouled.
The Eagles finish their non-league schedule at Reynolds Tuesday before returning to Hood River for their league opener against Hermiston Friday.
Wheat said the Eagles are hoping to put the lessons they learned against Parkrose to use in those games.
"Even though we lost we still feel great," he said. "We just have to keep working hard in practice."
Latest stories
Latest video:
Advertisement: The Men of Black Friday
The secret agents of Big Winds may not exactly be Tommy Lee Jones oand Will Smith, but they still discovered there is plenty of strangeness to be found in Hood River...especially once winter sets in. Enlarge