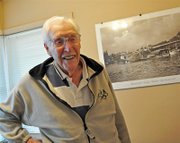 If you are on Ralph Smiley's Christmas card list and haven't received one yet, don't blame him. Blame the fact that he has a lot worth sharing in his life story.
"I've had a lot of fun in my life," he says while sitting back to recall the experiences that make up that life.
The 91-year-old Smiley has been an institution at the Oregon Farm Bureau since the 1950s, which is distinctive in and of itself because Smiley did not know a lick about running an orchard when he moved to the Valley in 1959.
"They like to joke that they can't start the convention until I show up," he says.
Smiley's first love was airplanes. As a child in North Carolina, he grew up in the state that was the birthplace of U.S. aviation less than two decades before.
As a young child he walked for nearly a whole day just for the chance to see his hero, Charles Lindberg, fly overhead.
"If my parents wondered where I was they would go to the airfield," he said.
Naturally, Smiley went into a career in aviation, joining the U.S. Army Air Corps in June 1939.
Soon after, he found himself stationed at Hickam Field in Hawaii for one of the armed forces' newest and creative branches.
The Air Corps, established barely two decades before, was still finding ways to do things in late 1939. Smiley and other air crews literally helped to write the book on tactics and operation manuals. If a plane didn't do quite what they wanted, they took it apart and modified it. Hard to picture that happening today with a $100-million fighter jet. That fit in well with the always-inquisitive Smiley.
"My father said my first word was 'Why,'" said Smiley. "He also said it probably be my last word."
That entrepreneurial spirit led to a team camaraderie at the base.
Smiley still remembers his commander telling servicemen at the base that their rank did not matter - the safety of a flight crew depended just as much on the officer flying the plane as it did on the enlisted men doing the maintenance.
"We were experimenters," he said. "If somebody had an idea we would try it...I can still hear the old man saying that if it didn't work at least you learned something."
They did everything from testing the B-18's - a plane not nearly as famous as its successor, the B-17, for the important reason that its nickname was the "Flying Coffin" - to taking their training planes out to fly laps around the arriving China clippers.
They were part of a pioneering group.
"We were the first guys who went up to 35,000 feet to try and fight a war," Smiley said.
And fight a war they would.
In the early morning of Dec. 7, swarms of naval aircraft from the empire of Japan swooped low of Pearl Harbor, catching a large portion of the U.S. Pacific fleet at anchor. In addition to the battleships in the harbor, the Japanese attacked every target of military significance, including Hickam Field.
"When the bombs started falling, it was a rude awakening," Smiley said.
It would be a day that defined what the Air Corps had been training men like Smiley for.
Throughout their training members of the Air Corps had to learn how to do each other's jobs. Navigators had to learn how to fire the plane's guns, flight engineers had to know how to fly the plane and pilots needed to now how to navigate the bombers.
"We learned how to do everything from make the sheet metal to fly the plane," Smiley said.
On the morning of Dec. 7, the vast majority of the Air Corps' planes were destroyed on the ground, having been parked wingtip-to-wingtip to avoid sabotage; they instead made perfect strafing targets for attacking aircraft.
Every man became a firefighter, a medic, a rescue worker - whatever they could do to help with whatever they had left to help with.
"I had my flight coveralls on with a pair of shoes - no socks - and that was the sum total of all I had left," Smiley said. "You looked around and saw all the people that were wounded and got them shipped to the hospital … We were jumping up and doing whatever we could do to save our friends."
Some elements of the day still seem surreal to Smiley.
In addition to the planes and ships, the Japanese also bombed the base's baseball field. Some planes flew so low overhead, Smiley felt he could have practically hit them.
"If some of things weren't so damn serious they would have been hilarious," he said. "Some of the planes were so low I felt I could have hit them with my shoe."
In the second wave of the attack, Smiley received his only injury of the war, when he took a piece of shrapnel to the nose when the doors in the building he was standing in were blown off by a bomb.
After the planes left, the shock of the attack wore off.
"Your legs started to buckle and wondered, 'Dear Lord, why them and not me?"
As the United States picked up the pieces from the wreckage of Pearl Harbor, the military recognized this would be a whole different kind of war - the kind that called for the combatants to soar high into the sky to meet their opponents.
To develop a plan for just how to fight this new kind of war, Air Corps veterans were sent to train new recruits.
"We had been through the school of hard knocks," he said. "It was a team effort with a team mentality.
Smiley went to Nevada where he helped to put together an assembly-line-style maintenance check for aircraft. Different people were assigned different areas of the plane to examine and in relatively short order the entire aircraft was checked out and ready to fly.
The model is still in use today. Smiley said that a few years ago he was telling the story of the assembly-line maintenance to his granddaughter, who was in the Air Force, and she told him they applied the same method to modern fighter jets.
In the closing year of the war, Smiley and his team helped train crews for the B-29 Superfortress, and develop tactics for helping the plane steer away from the shock wave of 10,000-pound bombs.
However, when they saw a massive mushroom cloud blossom from the Nevada desert, they realized it had not been tests for the 10,000 pounders they had been working up, but something far bigger: a bomb which would bring the war to a close.
After the war, Smiley went to work for Lockheed, were he met another hero of his youth, Howard Hughes, while working on the Lockheed Constitution and later the Constellation.
Later he went to work for the Lear Corporation, developing some of the best corporate and private jets in the world while working amongst the stars of Hollywood.
"I've met some fascinating people," he said.
While it was fascinating, it was a grind. He typically worked overnight shifts, and came home for a few hours to get some sleep.
In a passing conversation he told his mother, "One of these days I'll quit this racket and buy a farm."
A few months later, she called him and told she had found him a farm.
"I didn't know what she was talking about," he said.
However when his family went to visit the Hood River Valley, they quickly fell in love with the area.
"My little boy called me and said, 'Mom and I are staying here where it's pretty; you can come and visit,'" Smiley joked.
In 1959 he bought what would become Smiley's Orchard from the Diamond Family. After doing the first harvest over the phone he moved to the Valley and has been here ever since.
For most of that time he has been involved in the Farm Bureau. For over 45 years he's been attending the annual conventions. He's met dignitaries, spread the gospel of Hood River apples far and wide, and has been honored nearly an equal number of times for his service to his county.
"If you had been at some of the conventions you would have thought I'd won the whole war by myself," he said.
He finds it funny, considering that he has served the farm bureau far longer than he did the armed forces.
"If I've contributed anything to my fellow man it has been more through the farm bureau than anything in the service," he said.'
Regardless of what he is more connected with, Smiley can't think of any other way he would have lived his life.
"I got to work with airplanes for 20 years and then I got to play on a fruit orchard," he said. "I've had a lot of fun in my life."
More like this story
Latest stories
Latest video:
Advertisement: The Men of Black Friday
The secret agents of Big Winds may not exactly be Tommy Lee Jones oand Will Smith, but they still discovered there is plenty of strangeness to be found in Hood River...especially once winter sets in. Enlarge