Tuesday, January 31, 2012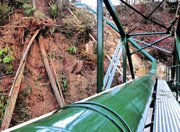 With the city water main still in danger from a progressing landslide, city engineers and consultants are working round the clock to assess and address the situation. The city will provide more details on planned interventions as soon as they become available.
Back in town, however, the less dramatic but equally important public works tasks are being checked off the list, one-by-one.
"We're hauling snow off of 13th and from the downtown area this weekend," said Dave Smock, public works foreman. "Our other focus for the weekend is clearing storm drains and the right-of-ways from brush, debris and limbs."
Excess snow will be hauled to a temporary storage site on Port of Hood River property.
"We really appreciate the partnership with the port," said Smock. "We have nowhere to store the snow in the city."
Also as part of the storm cleanup, public works crews are clearing sidewalks, filling potholes and dealing with tree removal evaluations.
"We're filling potholes as fast as we can, but people should call us if they see a pothole that hasn't been attended to. We haven't had time to look at every street," said Smock. "We'll get them on
the list."
Smock again encouraged residents to help crews by keeping fire hydrants clear of snow and ice and to assist with keeping street drains cleared.
"Also, if street sand is piling up, residents can sweep that out to the street for cleanup," Smock said.
More like this story
Latest stories
Latest video:
Advertisement: Local Appreciation Sale at Big Winds