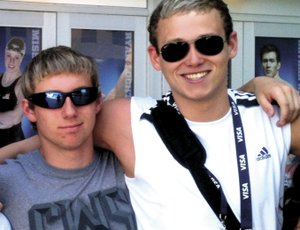 Hood River Valley Swim Team standout Scott Bergstrom traveled to Omaha, Neb., this week to compete in the USA Swimming Olympic Trials. Bergstrom qualified for the trials in the 100 meter butterfly after posting a time standard earlier this month at a last-chance meet.
Bergstrom finished just shy of his personal best in the event, which put him at 113th overall.
Back home, HRVST practice was stopped so Bergstrom's teammates could watch a live feed of his race.
"This has been a great experience for us," said HRVST coach Shelly Rawding. "Athletes and coaches are treated like royalty, and being next to the swimmers who are going to the Olympics; seeing how they prepare for their races is a great learning expereince."

More like this story
Latest stories
Latest video:
I Can't Keep Quiet singers at "Citizen Town Hall"
'I can't keep quiet,' sing members of an impromptu choir in front of Hood River Middle School Saturday prior to the citizen town hall for questions to Rep. Greg Walden. The song addresses female empowerment generally and sexual violence implicitly, and gained prominence during the International Women's Day events in January. The singers braved a sudden squall to finish their song and about 220 people gathered in HRMS auditorium, which will be the scene of the April 12 town hall with Rep. Greg Walden, at 3 p.m. Enlarge