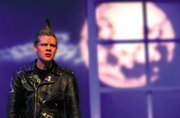 Skin of Our Teeth
In this weekend's production of "Skin of our Teeth," by Thornton Wilder, Henry, played by Duncan Krummel, may represent the unavoidable evil shared by us all. The play explores how humanity continually attempts to rise above and triumph through every obstacle. Wilder takes the audience on a ride across our entire human history, including wars, a great flood and an impending ice age. Not a children's story, the play provides adults with plenty to think about. HRVHS Bowe Theater show times: March 9,10,16 and 17 at 7 p.m. and March 11 at 2 p.m. Tickets available at the door. Adults $7; seniors and students $5.
Square dance at Rockford
On Saturday, March 10, from 7-10 p.m., it's the Second Saturday Country Dance and Potluck at the Rockford Grange in Hood River. The band will be the Mill Creek String Band. Dance lessons will begin at 7 p.m. All ages welcome and no partner is required. Family-friendly event. All dances walked through first time. Enjoy an evening of country squares, contras, circle dances and a few waltzes. The dance will be at the Rockford Grange, on Barrett Road, Hood River. $6 for members, $7 for non-members, $1 for youth and students. Please bring snack treats for break time. Call Keith Harding at 541-352-7550 or Tom Hons at 541-386-5771 for further information.
Hapa Hillbillies at Solstice
Join us every Monday at Solstice Wood Fire Cafe in Bingen, Wash., for local live music featuring the Hapa Hillbillies. The awesome six-piece acoustic band features mandolin, steel guitar and stand-up bass. Free admission, 6-8 p.m.
Barley Draught celebrates St. Patrick's Day
Get ready for St. Patrick's Day music with the Gorge's own eight-piece Irish folk band Barley Draught, coming to an Irish pub near you. "If you've had a grand time, danced, sang and laughed — we really don't mind if you blame Barley Draught!" The Thirsty Woman Pub, Mosier, March 16, 7 p.m.; Clock Tower Ales, The Dalles, March 17, 5 p.m. with an additional show at the Landmark Church at 8:30 p.m.; Dog River Coffee, Hood River, March 18, 3 p.m.
Kit Garoutte at Naked Winery
Saturday, March 10, 1-4 p.m. Early Show with Kit Garoutte — When it comes to fingerstyle jazz guitar, Kit Garoutte is a guitarist worth listening to. It's jazz, pop, classical, blues and more integrated into a personal flow of personal soulful communication to appeal to a broad listening audience. Saturday, March 10, 7-10 p.m. Acoustic sounds with Rick Hulett, Ryan Kolberg and Tim Ortlieb. Come join us for a night of acoustic sounds and melodic music with Rick Hulett on guitar, Ryan Kolberg on bass guitar and Tim Ortlieb on drums. Sunday, March 11, 1-4 p.m. Kit Garoutte returns. Monday, March 12, 7-10 p.m. Open mic and local's night hosted by Rich Wilkins, master of the blues.
Gorge Owned screens 'I AM'
Gorge Owned Business Network (GO!) welcomes Gorge residents to a screening of the film "I AM" at Springhouse Cellar in Hood River on March 13. "I AM" is an engaging and entertaining film that poses two practical and provocative questions: What's wrong with our world, and what can we do to make it better? Armed with nothing but his innate curiosity and a small crew to film his adventures, filmmaker Tom Shadyac sets out on quest to answer these questions. Doors will open at 6 p.m. and the film will begin at 7 p.m. Admission is $10 for adults, $8 for GO! members and $5 for kids 12 and under.
'Concerto!' features Gorge soloists
For its upcoming concerts March 9 and 11, the Columbia Gorge Sinfonietta is "throwing out the rulebook." That is the word from conductor Mark Steighner, who has decided to veer away from a traditional "formula" for concert programming.
Instead, Steighner will feature four solo concerto movements and pieces, highlighting both adult and student soloists from the Gorge, in a program of music that spans the 18th through 20th centuries. "This is a highly unconventional yet thoroughly entertaining program," Steighner said. "It includes lively baroque music, a classical-era masterpiece, a late 19th century French rhapsody and one of the most beloved concertos from the 20th century."
The appropriately titled "Concerto!" Friday evening performance will include Impressionist composer Claude Debussy's "Rapsodie," for alto saxophone and orchestra, with soloist Dr. Erik Steighner, a former graduate of HRV and conductor Steighner's son.
From the Washington side of the Gorge, award-winning piano student Jonathan Hill will be the featured soloist in Mozart's "Piano Concerto #23" during the Sunday matinee performance.
Oregon solo musicians performing for both concerts include Hood River student violinist Kendra Apland, playing the first movement of Samuel Barber's "Violin Concerto" and Hood River trumpet teacher and musician Kate Dougherty, performing baroque composer Neruda's "Trumpet Concerto in Eb."
The program will be rounded out with Antonin Dvorak's "Serenade for Winds," an effective showcase for the Sinfonietta's woodwind and brass section.
"It's like a one-hour course in music history," said Steighner.
The concerts — to be performed at The Dalles Civic Auditorium Ballroom — are Friday, March 9, at 7 p.m. and Sunday, March 11, at 2 p.m. Both concerts are free with a suggested donation of $10 at the door. Handicapped access is available.
More like this story
Latest stories
Latest video:
Advertisement: The Men of Black Friday
The secret agents of Big Winds may not exactly be Tommy Lee Jones oand Will Smith, but they still discovered there is plenty of strangeness to be found in Hood River...especially once winter sets in. Enlarge