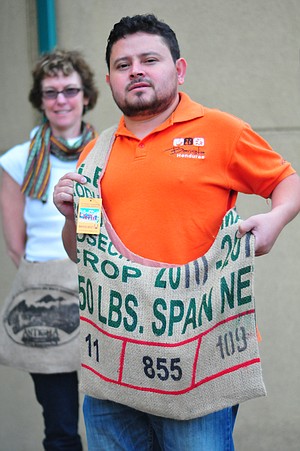 Peggy Thompson Hudon of Hood River is pounding a trail between Central America and Hood River.
Helping the women of La Cañada, Honduras, avoid the arduous pounding and grinding of beans by hand is one of Hudon's goals in her association with Las Mujeres Cooperativa, a 12-women roasting operation there.
Hudon, co-owner of Hood River Coffee Co. with her husband, Mark, will make her fourth trip to Honduras later this year in what has become a confirmed international partnership with the people who grow and roast coffee at its source.
She will return to La Cañada later this year and for the trip Hudon has some ready-made carry-on luggage.
The Hudons repurpose burlap coffee sacks into messenger bags, which are sold to benefit Las Mujeres.
The bags won the Hudsons the People's Choice Award April 22 at the 2012 Specialty Coffee Association Convention in Portland.
They were recognized for their efforts on behalf of the cooperative.
"Last summer we came upon the idea of making these repurposed burlap messenger bags and giving the profits to the cooperative," she said.
"We are thrilled to have won this award to help create an awareness."
Peggy first met the women of Las Mujeres in November 2010 and learned of their efforts to augment their livelihoods by roasting their own coffee on an open fire using a very large wok-shaped pan.
She said, "I filmed their roasting methods, as well as the milling of their coffee using a mortar and pestle. I left La Cañada, feeling connected with these women, yet unsure how to help them."
Hudon will be going back to the cooperative for a week this December.
"I will be with a member of the coffee industry in Honduras to teach them cupping methods so they can access, and if necessary, learn ways in which they can improve the method of their coffee," Hudon said.
Cupping is the technique of sampling coffee to observe and determine the flavor, feel and aroma of brewed liquid.
"Beyond that, we also hope to help them with the purchase of a hulling machine," Hudon said.
"The mortar and pestle method that they currently use makes for back-breaking work. They would definitely be better served to put their energy in other directions. The hulling machine will help them do just that."
More like this story
Latest stories
Latest video:
I Can't Keep Quiet singers at "Citizen Town Hall"
'I can't keep quiet,' sing members of an impromptu choir in front of Hood River Middle School Saturday prior to the citizen town hall for questions to Rep. Greg Walden. The song addresses female empowerment generally and sexual violence implicitly, and gained prominence during the International Women's Day events in January. The singers braved a sudden squall to finish their song and about 220 people gathered in HRMS auditorium, which will be the scene of the April 12 town hall with Rep. Greg Walden, at 3 p.m. Enlarge