Friday, November 23, 2012
Ryder is an 18 months old, beautiful pittie. He's been in the shelter since July, and really knows his way around the place, and is even the official greeter for all the new dogs and people.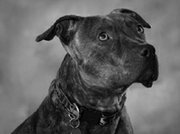 We seem to be having a run on small dogs and Ryder needed play time practice with big dogs so we arranged to send him on a two-week "Doggie Camp." He there lived and played and learned all about big-dog manners, and got lots of one-on-one time with the trainer. Boy, did he have a blast!
Ryder still loves to play with little dogs more and is very appropriate and gentle with them, but now he learned how to be a good big-dog playmate and not rough it up so much.
He is eager to please and is a very quick learner, but he is strong and would do best in a home with a dog-savvy owner who can help him remember what he's learned.
Ryder is very obedient, well-mannered, will sit politely and wait calmly at an open door until given the "ok" to head on out, and he's learned that he loves people and toys! He entertains himself with just about any toy, or rock, or stick and seems to have the best time ever! Watch his video on our website to see for yourself.
And after a fun game of fetch, or a nice jaunt with the bike, Ryder likes to find a cozy corner or lap and chew on his favorite toy and just relax. Ryder gladly surrenders toys to you, is great on walks, and gets along with other dogs, too.
Ryder likes kids, too but that pittie tail of his can get going and not sure little ones will appreciate his enthusiasm!
Ryder is housetrained, current on shots, micro-chipped and neutered. The adoption fee for Ryder is $185, cash or check only, please. The adoption fee is charged to help recover standard average veterinary expenditures for each dog.
Please call ahead to meet Ryder in Odell at the Hukari Animal Shelter 3910 Heron Dr, Hood River OR 97031. Call the shelter for more information 541-354-1083. Adoption hours are Wednesdays 5-7 p.m. and Saturdays 9-11 a.m.
You can download an application at our website: hoodriveradoptadog.org and you can fax your application to 1-877-833-7166.
We offer 24PetWatch microchips, which include free registration into the 24PetWatch pet recovery service. For more information visit www.24petwatch.com or call 1-866-597-2424.
Latest stories
Latest video:
Advertisement: Local Appreciation Sale at Big Winds