Tuesday, November 27, 2012
The Hood River Valley High School boys basketball team has a simple formula for winning: score 55 points a game.
"We need to score 55 to be competitive, and we need to hold the other guys to 54. That's about it," said second-year coach Steve Noteboom, who has a seven-senior roster but is starting the 2012-13 season in rebuilding mode, as only three of those seniors have varsity experience.
The Eagles start the season today with Woodburn, Century and Centennial and in a jamboree at Woodburn.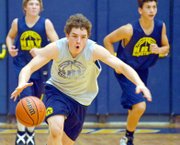 "We need to take it game by game, starting with possession by possession," said Noteboom, who with assistant coach Don Schmidt has installed a new "gap defense" strategy, with one player handling ball pressure and the other four doing all they can to deny lane penetration.
"It's a lot of working together to keep the ball from getting inside," said Noteboom, who studied it over the past year, and saw it as a system "designed for a team that isn't quite as talented and gifted."
Noteboom is forthright about the overall skill level on his team. "We're open about it with them," he said, "Look at the record last year; the JV did not win a game and the varsity had one win."
Offensively, he said, "we need to look at how many passes we make, what kind of shots we get, get better possession by possession, then game by game, and then go from there."
The upside, however, is that "the kids are very coachable; they are eager to learn, and it's especially fun to work with them. The time passes very quickly. I look up and say, 'We only have 10 minutes left.' It is just fun coming to practice."
Senior post player Eli Fults said, "I think it's going to be a mentality. In the past, to be honest, we haven't been the greatest basketball team, and we gotta change that. We need to get a winning mindset, is what it's going to take: we've got five guys out there and they've got five guys and we can compete with them."
Noteboom said he is looking for leadership from three key players: 6-3 Ryan Wheat, the 2011-12 top scorer and a second-team all-conference choice; Luke Kopecky, 6-2 front court; and Fults, 6-1, whom Noteboom called one of the physically strongest players in the league.
"Having this senior leadership helps with higher levels of intensity and maturity," he said. "I will probably have three to four sophomores and freshmen on the varsity team so that senior leadership will be important. We also have four varsity football players and two varsity soccer players.
"Both of these programs have had success and so these players have that winning attitude and know that hard work and being mentally tough allow you to have success," Noteboom said.
Other seniors are Alonso Mendiola, 6-0, an all-purpose player who is expected to give valuable backup minutes to the starting big men; Nick Weekly, 6-1, ("we will rely on him to rebound, set screens and do some scoring") and RJ Chavez, 6-1, a three-point shooter and strong passer.
Senior point guard Cesar Romero, 5-5, will be given the responsibility to bring the ball up the court and get the offense started, while 5-8 sophomore Austin Clarke, the best pure shooter in the program, "will need do take over some of the ball handling duties," Noteboom said.
An oddity with this team is the fact that it contains just one junior: Wyatt Webber, who at 6-0 is "very quick and athletic," and will be relied upon to stop opponents' better scorers, according to Noteboom. Freshman Parker Kennedy, 6-0, was brought up to the varsity for his "defensive intensity," Noteboom said.
That leads to the second oddity with the new squad: There are two ninth-graders on the team, and the last time a freshman cracked the varsity lineup was nine years ago, when 6-4 K.C. Christensen transferred to HRVHS and immediately made the starting lineup, under then-coach Phil Vesel.
At 6-3/6-2/6-0 and shorter, height and length are lacking on the team, but Noteboom is confident in its bulk. Look for a concentration on the inside game this year, with an inside-outside game based on getting the ball to Fults, Kopecky and Weekly and others down low. Fults said he's ready.
"We've got some more size and strength and we'll be able to play a lot more physical and inside the paint more this year, which I think will be good," he said.
Kopecky said, "We need to come together as five on the floor, and work together to compete, but also in practice we need to work together and help each other get better."
Wheat said, "We need to give a lot more effort than we have in years past, work a lot harder to compete with other teams and be more physical, definitely. We can shoot really well; we've got a lot of players who can hit the three."
Fults said he is looking forward to "just being able to compete a lot more with other teams. We'll definitely be more competitive."
"I'm just looking forward to playing with these guys," Kopecky said. "We're good friends and you know it's our last year playing together so I'm looking forward to just playing."
Latest stories
Latest video:
Advertisement: The Men of Black Friday
The secret agents of Big Winds may not exactly be Tommy Lee Jones oand Will Smith, but they still discovered there is plenty of strangeness to be found in Hood River...especially once winter sets in. Enlarge