Tuesday, November 27, 2012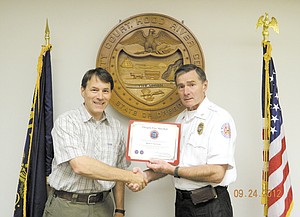 Local builders and homeowners alike may recognize the name Mark Van Voast — Hood River County building inspector. What may be news is that Van Voast has become the first building official in the state of Oregon to become a certified fire marshal.
Van Voast, who is also a West Side volunteer firefighter, recently received his Fire Inspector II and Fire Plans endorsements from Oregon State Fire Marshal Deputy Ted Megert, after a two-year training and mentoring period.
Over his long career in building and inspection, Van Voast had already completed an array of state pre-requisites prior to undertaking the fire marshall training, achieving a unique blending of two disparate professions.
"It is unusual," said Van Voast. "It's taken almost my entire career."
"Mr. Van Voast obtained this certification on his own time while maintaining his schedule as Hood River County's Building Official," said Kim Paulke, Hood River County community development department co-worker. "We are very proud to have him represent Hood River County and have the utmost respect for his ability as a Building Official and member of this community."
Latest stories
Latest video:
I Can't Keep Quiet singers at "Citizen Town Hall"
'I can't keep quiet,' sing members of an impromptu choir in front of Hood River Middle School Saturday prior to the citizen town hall for questions to Rep. Greg Walden. The song addresses female empowerment generally and sexual violence implicitly, and gained prominence during the International Women's Day events in January. The singers braved a sudden squall to finish their song and about 220 people gathered in HRMS auditorium, which will be the scene of the April 12 town hall with Rep. Greg Walden, at 3 p.m. Enlarge