Friday, November 30, 2012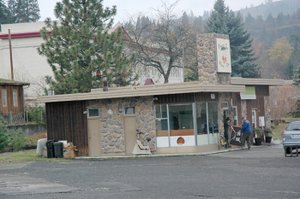 Mosier Community School boards co-chairs Monica Reid and James Matthisen announced Thursday that the charter school serving Mosier-area students in grades K-8 has purchased the former gas station located next to the school on Main Street to expand its campus.
The purchase was completed on Nov. 9.
A celebration of the purchase will be at noon on Dec. 5 at the gas station site and the public is invited.
The building will also serve as a community center, with public access to classrooms after school hours, the media center and the commercial kitchen.
Executive Director Carole Schmidt said, "This site was the number one choice for our expansion planning committee. Having the property right next to the current school building lets us expand our campus, create an outdoor learning center, and better serve students.
Matthisen added, "Mosier Schools have built a reputation for STEM (science, technology, engineering and math) excellence. The expansion will have new "smart" classrooms and access to technology."
The half-acre property was formerly a gas station and general store. It had been vacant for about six years before Christina LaFever of Mosier leased it starting in May to house her furniture consignment business, The Dwelling Station, which will be open this weekend.
The state DEQ office in Pendleton is contributing funds to decommission the gas tanks and ensure the site is ready for construction.
Now that the first phase of the project, site acquisition, is complete, the next phase is to raise the funds for school construction, estimated at $2 million. Depending on the pace of fundraising and construction, the project should finish in two to three years.
Mosier School was chartered by North Wasco County District 21 in 2003 to serve students primarily in zip code 97040, utilizing the historic 1920 school building at the entrance to town. The school opened with an enrollment of 79 and quickly grew to 160. In 2009, the school received a charter for middle school and grades 7 and 8 were added, increasing the enrollment to capacity at 220. Mosier Schools consistently receives high ratings from the state Board of Education.
The school installed a modular unit with two middle school classrooms in 2011 on the school parking lot but this expansion does not serve all students; several classes are still held in the former wood shop. There is a waiting list for most grades.
The expansion will include three classrooms, a media and technology center, new cafeteria, outdoor education center and garden, and public park. The cafeteria will replace the current one last upgraded in the 1950's, which serves over 200 hot breakfasts and lunches daily. More than 40 percent of Mosier Schools students are on free and reduced lunch.
The town of Mosier named a combined school/community center as one of its top three goals in a recent survey. The classrooms will be used by the community for activities, classes, and business projects. The kitchen will be available for use by food product businesses.
Funding will come from public sources, possibly including USDA, U.S. Forest Service, Gorge Scenic Area, and other sources. Private funding will come from individuals, foundations, and businesses that believe that this project is key to building a vital and sustainable community, according to Schmidt.
Contributions to the capitol campaign are accepted, by mail to Mosier Schools Campaign, PO Box 307, Mosier, OR 97040 on online at www.mosierschool.com; click on the "giving" then "donate".
More like this story
Latest stories
Latest video:
I Can't Keep Quiet singers at "Citizen Town Hall"
'I can't keep quiet,' sing members of an impromptu choir in front of Hood River Middle School Saturday prior to the citizen town hall for questions to Rep. Greg Walden. The song addresses female empowerment generally and sexual violence implicitly, and gained prominence during the International Women's Day events in January. The singers braved a sudden squall to finish their song and about 220 people gathered in HRMS auditorium, which will be the scene of the April 12 town hall with Rep. Greg Walden, at 3 p.m. Enlarge