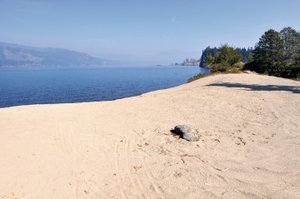 New beach: Blackberry Beach in Cascade Locks is ready for east winds. Check www.nwkite.com to read more about the beach and about a Columbia Gorge Kiteboarding Association party Saturday at the location.
Photo Gallery
Photo gallery: Photos of the Day September 2012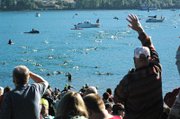 Photos of the day for September 2012
More like this story
Latest stories
Latest video:
Parkdale third graders sing "12 Disaster Days of Christmas"
Welcome to your sing-able Christmas gift list. What follows is an emergency rendition of "12 Days of Christmas" – for outfitting your home or car in case of snow storm, earthquake, flood or other emergency. Read it as a simple list, or sing it to the tune of "12 Days" – you know, as in " … and a partridge in a pear tree…" Not to make light of it, but the song is a familiar framework for a set of gift ideas that you could consider gathering together, even if the recipient already owns items such as a bunch of coats, tire chains and flashlights. Stores throughout the Gorge are stocked up on all these items. Buying all 12 days might be prohibitive, but here are three ideas for checking any of the dozen off your list (notations follow, 1-12.) The gift items needed to stay warm, dry and safe are also coded to suggest items in your abode (A) in your car (C) or both (B). 12 Gallons of Water (A) 11 Family meals (B) 10 Cans of propane (A) 9 Hygiene bags (B) 8 Packs of batteries (A) 7 Spare coats (B) 6 Bright red flares (C) 5 Cozy blankets (B) 4 Tire chains (C) 3 Flashlights (B) 2 cell phone chargers (B) 1 And a crush-proof first aid kit (B) Price ranges? Here's a few quotes for days Three, Two, Four and Nine: n A family gift of flashlights (three will run $15-30, Hood River Supply, Tum-A-Lum) n Cell phone chargers (two will run $30-60) n Tire chains (basic set, $30, Les Schwab, returnable if unused for the winter) n Family meals ($100 or so should cover the basics for three or four reasonably well-fed days) n The home kit should be kept in a handy place near an exit, and remember that water needs to be replenished every few months. If you have a solid first aid kit already, switch out the gift idea with "and-a-sto-o-u-t- tub-for it-all …" Otherwise, it's a case of assembling your home or car kits and making sure all members of the family know what the resources are and how to use them (ie flares and propane). Emergency situations are at worst life-threatening, at best deeply uncomfortable if you and your family are left without power for an extended period, or traveling and find yourself in a situation where you need to wait out a storm, lengthy traffic delay, or other crisis. Notes on the 12 gift ideas: 12 – Gallons of water: that's one per person in a four-member family to last for three days, the recommended minimum to be prepared for utility outages. 11 – Easy-open packaged goods, energy bars, dried food and nuts are good things to include for nutrition. Think of what your family of four needs for three days to stay fortified and hydrated (see number 12). Can-opener also recommended 10 – If you have a propane camping stove, keep extra fuel handy. 9 – Hygiene bags: put packaged moistened towelettes, toilet paper, and plastic ties in large garbage bags (for personal sanitation) Resource list courtesy of Hood River County Emergency Management, Barbara Ayers, manager/ 541-386-1213. The county also reminds residents to Get a Kit, Make A Plan to connect your family if separated, and Stay Informed. See www.co.hood-river.or.us to opt-in for citizen alerts. Enlarge