Wednesday, October 3, 2012
I think that this week went really well considering the cancellation of the Bonfire. Students were disappointed, but I commented on their maturity when faced with this big disappointment.
Photo Gallery
Faces of homecoming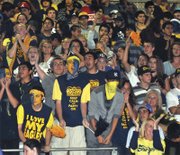 Images from Hood River Valley Homecoming 2012
I was expecting a large backlash after I announced that we were going to be postponing the bonfire activities until November, but the students were all very understanding that issues arise that are beyond my control. They are looking forward to the new event Nov. 8.
We had such a positive group of students this year, homecoming went by really smoothly. Most years the class competition gets a little rough around the edges but I was exceedingly pleased when at the dance competition the freshmen boys that came out to perform were greeted with applause and cheers that were deserved, and not the all-too-familiar booing/hazing of the freshmen that has happened in the past.
This week is all about the kids here at HRVHS, and they really impressed me both in my leadership classes in getting work done and being prepared for the events and all those who participated in all of our varied activities.
This year one of the major changes that we knew about coming into homecoming was the alteration of the parade. We have been having fewer and fewer students showing up at Jackson Park and fewer and fewer decorating the floats that are usually a part of the parade. We made the decision last year that classes could create their own floats, but that the school would not be supplying the space or materials (often times this happens naturally with the junior and senior class, as they want to keep their float a surprise).
We didn't have any takers on the float front this year, but we did have a lot of kids in the parade itself — which was great — and more ended up in Jackson Park. We still need to fine-tune what this parade will look like in the future, but I do think that we will be able to continue this tradition.
We have such great students in this school who spend a lot of effort throughout the year giving back to the community in various ways, whether looking at our numbers for the canned food drive in December, our blood drive, community service hours put in throughout the year — this week is really all about them getting a chance to unite and have a great time as a class and as a school.
Staff at HRVHS are always overwhelmed with both the amount of effort that students put into this week and how much some of them get wrapped up in the fun that is Homecoming Week. We will be spending this week cleaning/resting and critiquing each event to improve it for next year. This reflection really gets kids thinking about the future and about what part of each activity was meaningful for them.
More like this story
Latest stories
Latest video:
Advertisement: Local Appreciation Sale at Big Winds