Saturday, October 6, 2012
It wasn't pretty, but it was a win; and after three losses and a tie, Tuesday's 2-0 shutout of Pendleton was an important dose of momentum for the Hood River Valley High School varsity boys soccer squad as it moves into league play.
The Eagles clearly had the upper hand through most of the home game against the Buckaroos, but were unable to finish on dozens of scoring opportunities. Still scoreless through much of the second half, the boys caught a break off a shot by Camiel Buursma, which was deflected by a defender to give HRV a corner kick. A well-placed kick by Giovanni Magaña found Fabian Muñoz in perfect position for a header into the upper corner of the net. A few minutes later Magaña set up Hood River's second goal with a drive up the middle, where he drew a foul in the penalty box. Buursma took the shot and scored past a diving Pendleton goalie.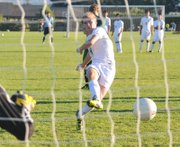 To his credit, Pendleton goalie Grant Banister played an outstanding game and came up with plenty of difficult saves. But Hood River's front line also made him look very good.
"We controlled the game really well but we need to work on our shooting, especially from the 18; a little bit outside," said Buursma, a senior midfielder. Hood River's offense peppered Pendleton with shots, but most were either directly at Banister or into a crowd of defenders.
"That was their strategy; to pack players in the penalty area and make the field smaller," coach Jaime Rivera said. "And we got drawn into that. We were taking shots at the wrong time. The boys were either shooting when they didn't have a clear shot or were dribbling too much when they should have been looking for a quick counter attack. But a win is a win, and the game will help prepare us for our next big test."
The team has a week between games before traveling Tuesday to Hermiston. The Bulldogs are undefeated this season (7-0-1) and are fourth in 5A state rankings. Hood River is currently ranked sixth.
"They're one of the best teams in the state right now," Rivera said of Pendleton. "It's going to be a big showdown and an important game for both teams. We've got some time this week to work on our game and fine-tune some things that will help us against Hermiston."
Last year the teams met twice and tied both times (1-1 and 0-0).
n
At midfield, Buursma brings several years of high level club soccer experience from his home country of Holland. As an exchange student, he arrived in Hood River a couple months ago and will spend a year at HRVHS and living with a local host family.
"It's great so far," he said. "When I was in Holland I didn't know if there would be soccer here. I didn't even bring cleats. But when I got here, three days later I was practicing with the team.
"The style is really different, but I'm getting used to it. We play a lot more long passes and through balls here. Also, I've always played on turf, so the grass is something I am getting used to. One thing I really like is we practice every day, not just one or two times a week like in Holland. When you see the guys every day you can bond together more as a team."

More like this story
Latest stories
Latest video:
Advertisement: Local Appreciation Sale at Big Winds