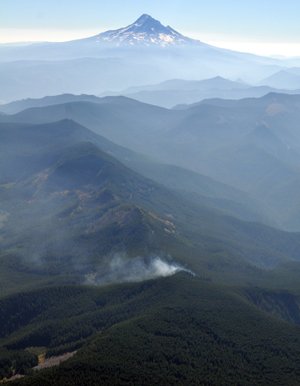 A 13-acre fire in the Mark O. Hatfield Wilderness area of the Mt. Hood National Forest has closed several popular trails and recreation areas.
The Eagle Creek fire ignited Friday and has closed sections of the popular Eagle Creek Trail (#440), a portion of the Pacific Crest Trail (#2000), and sections of the Mark O. Hatfield Wilderness including the Wahtum Lake area.
Trails which were closed over the weekend will remain closed until the order is given to lift the closures," said U.S Forest Service Information officer Chris Bentley. He added that the Forest Service was hopeful the fire would be mopped up by the end of the week, but could not guarantee that.
The fire is believed to have been human-caused, likely from a campfire started by a hiker.
According to the Forest Service, there has been a rash of human-caused fires this week in the Mount Hood National Forest, which have endangered the lives of both firefighters and the public.
According to Bentley, of the 75 fires in the Forest this summer, only seven have been started by lighting or natural causes.
The Eagle Creek fire has now covered 13 acres and due to the warm temperatures and extremely dry and windy conditions, the public is advised to avoid affected areas.
As of press time, the closures include: Wahtum Lake campground, Indian Springs campground, Pacific Crest Trail (from the intersection with Herman Creek trail to Indian Springs campground), Cinidere Cutoff trail from PCT to Wahtum Lake, Indian Springs trail, Eagle Creek trail (from the junction with Eagle Benson trail south to Wahtum Lake) and Eagle Tanner Trail.
PCT hikers and horse riders are being diverted to forest road 1310-660. Motorized vehicles are now banned from this route to allow for diversion traffic.
Three USFS crews battled the blaze over the weekend, and Bentley said that difficult terrain meant that the fire would likely not be fully contained.
"The vast majority is contained and they are mopping it up," he said, acknowledging that without access to certain fire lines, full containment is not possible.
The Forest Service advises that fires are currently only allowed in designated campgrounds within fire rings. In addition to the campfire restrictions, all motorized vehicles, including off-highway vehicles, are still prohibited from going off-road or using any national forest system trails.
Bentley issued a press release reminding forest users that smoking is only allowed in an enclosed building, vehicle or an area free of all burnable groundcover. He also noted that individuals may be held responsible for the cost of suppressing fires.
This summer has seen a record amount of acreage burned across the country, and with extreme fire conditions persisting in the Mt. Hood National Forest, Bentley said the USFS has hired a fire prevention crew to help educate the public in the Mt. Hood and Gifford Pinchot national forests about the fire danger.
Firefighting efforts have put a significant strain on the USFS budget, with Bentley saying "the money ran out in June" for firefighting efforts, and that the forest service has had to pull money and resources from other projects to help fight fires.
He emphasized that even though it is now colder in the mornings, those who use the forest should still avoid using campfires for warmth, and should instead rely on sleeping bags if they are camping overnight.
"If people are caught with fires that get out of control, they can be held responsible for costs of resources of fire crews and lost natural resources," Bentley said.
With resources stretched, Bentley said the forest service is relying on the public to help dampen the fire risk.
"We have fewer resources for more severe fires, and more dry conditions," he said. "We need the public help to try to mitigate it."
More like this story
Latest stories
Latest video:
Parkdale third graders sing "12 Disaster Days of Christmas"
Welcome to your sing-able Christmas gift list. What follows is an emergency rendition of "12 Days of Christmas" – for outfitting your home or car in case of snow storm, earthquake, flood or other emergency. Read it as a simple list, or sing it to the tune of "12 Days" – you know, as in " … and a partridge in a pear tree…" Not to make light of it, but the song is a familiar framework for a set of gift ideas that you could consider gathering together, even if the recipient already owns items such as a bunch of coats, tire chains and flashlights. Stores throughout the Gorge are stocked up on all these items. Buying all 12 days might be prohibitive, but here are three ideas for checking any of the dozen off your list (notations follow, 1-12.) The gift items needed to stay warm, dry and safe are also coded to suggest items in your abode (A) in your car (C) or both (B). 12 Gallons of Water (A) 11 Family meals (B) 10 Cans of propane (A) 9 Hygiene bags (B) 8 Packs of batteries (A) 7 Spare coats (B) 6 Bright red flares (C) 5 Cozy blankets (B) 4 Tire chains (C) 3 Flashlights (B) 2 cell phone chargers (B) 1 And a crush-proof first aid kit (B) Price ranges? Here's a few quotes for days Three, Two, Four and Nine: n A family gift of flashlights (three will run $15-30, Hood River Supply, Tum-A-Lum) n Cell phone chargers (two will run $30-60) n Tire chains (basic set, $30, Les Schwab, returnable if unused for the winter) n Family meals ($100 or so should cover the basics for three or four reasonably well-fed days) n The home kit should be kept in a handy place near an exit, and remember that water needs to be replenished every few months. If you have a solid first aid kit already, switch out the gift idea with "and-a-sto-o-u-t- tub-for it-all …" Otherwise, it's a case of assembling your home or car kits and making sure all members of the family know what the resources are and how to use them (ie flares and propane). Emergency situations are at worst life-threatening, at best deeply uncomfortable if you and your family are left without power for an extended period, or traveling and find yourself in a situation where you need to wait out a storm, lengthy traffic delay, or other crisis. Notes on the 12 gift ideas: 12 – Gallons of water: that's one per person in a four-member family to last for three days, the recommended minimum to be prepared for utility outages. 11 – Easy-open packaged goods, energy bars, dried food and nuts are good things to include for nutrition. Think of what your family of four needs for three days to stay fortified and hydrated (see number 12). Can-opener also recommended 10 – If you have a propane camping stove, keep extra fuel handy. 9 – Hygiene bags: put packaged moistened towelettes, toilet paper, and plastic ties in large garbage bags (for personal sanitation) Resource list courtesy of Hood River County Emergency Management, Barbara Ayers, manager/ 541-386-1213. The county also reminds residents to Get a Kit, Make A Plan to connect your family if separated, and Stay Informed. See www.co.hood-river.or.us to opt-in for citizen alerts. Enlarge