Tuesday, October 23, 2012
Concert rock violinist Aaron Meyer and guitarist Tim Ellis will be arriving back in Hood River Saturday to share a fully orchestrated performance alongside the Columbia Gorge Sinfonietta.
Photo Gallery
Aaron Meyer rehearses with Sinfonietta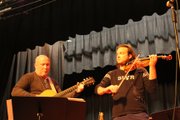 The Columbia Gorge Sinfonietta rehearses with violinist Aaron Meyer and guitarist Tim Ellis for the upcoming Oct. 27 performance at the Hood River Middle School.
The duo recorded a new CD of their original and arranged music after commissioning Oregon Symphony Resident Pops conductor Jeff Tyzik to orchestrate six of their songs for full orchestra.
Those arrangements will be the featured pieces of Saturday's concert with the local Sinfonietta, recreating pieces from the CD, as recorded with members of the Oregon Symphony.
Meyer agreed to an interview in anticipation of his concert benefiting the CG Sinfonietta. Details on the concert follow the interview.
Many people comment on the "bliss" evident in your face when you are playing. Can you share what is happening inside you that creates that expression as you play?
I love to play music. When I am really into the zone of just playing the music and being totally present in the music, I can enter a state of bliss, or sometimes I like to call it la-la land. It's one of the greatest places to be, especially playing music with my friend and music collaborator Tim Ellis. I don't really pay any attention to anything else; I am completely lost and I am just playing the violin and almost let the music play me.
What was the pivotal moment that pushed you from an average kid playing violin to someone who would dedicate his life to the pursuit of innovation and excellence as a violinist?
One of the most influential moments was when I was 5 years old. My father, a violin teacher in Philadelphia at the time, had a student who won a competition to solo with the Philadelphia Orchestra. The student was 11 years old and I was 5 years old. I went to this performance and watched this young gal perform with one of the greatest orchestras in the world. I was blown away and told my dad, "I want to do that!"
After the performance, my father threw a party for the gal who won the competition and soloed with the orchestra. At the party, out came a giant cake in the shape of the violin for the gal. I turned to my dad and said, "Forget the concert, I want that cake!" Dad said, "You need to win the competition and then solo with the orchestra, then I will get you your cake." I guess at that moment, I was committed to the violin and music.

When I was 11 years old, I soloed with the Philadelphia Orchestra. I tried to quit the violin after I soloed with the Philly Orchestra and another time when I was older for about five years but I kept coming back to the violin. It just wouldn't leave me alone. Thank goodness for that cake!
Why do you think people still need to hear music performed live in a world with such high technological fidelity in recordings?
There is nothing like live music. No recording captures a live performance. A live performance is never the same. So many things other than just the performer affect live performance: the venue, the atmosphere, what's going on around, the people attending the concert, etc., all affect and contribute to the energy of the live show. Even the mistakes that the performer makes are part of the live show. Great recordings are necessary and fun but the magic happens live.

What draws you to select and perform certain pieces?
I am somehow inspired to write an original piece of music or cover someone else's music. I think all people love music; we all might not like the same music but music speaks to all of us. I oftentimes am inspired to write a piece of music based on an experience that I have or a place I am visiting.

For example, when my wife, Renee, and I were visiting Moorea in French Polynesia, South Pacific, a couple of years ago, we spent the day on an ATV tour with a guide riding all over the island. The guide told us about when Captain Bligh sailed through French Polynesia and experienced his infamous, "Mutiny on the Bounty," not far from where we were visiting.
While we toured Moorea, the guide showed us sights were the 1984 film, "The Bounty" was filmed and gave us some of the history. When I returned to my hotel that afternoon, I looked at the beautiful scenery of the island and the water, and thought to myself, what would the music of that time sound like if it were recreated today? I took these ideas I had to my music-writing collaborator, Tim Ellis, and we wrote The Bounty. We recorded this original song in April 2011 with full orchestra at Tim's recording studio in Portland.

What message do you hope your music brings to your audience?
I want to write and perform music that makes people feel good and inspires them. Tim and I always try to make the music as meaningful as we can and write with integrity. We put all of our energy into this music and when we play, we play it for the listener. If the listener is not enjoying the music, then we are not enjoying it, either.

Some say that music virtuosity is a jealous mistress. Any thoughts on that?
I spend much of my time dedicated to the music but I have many other interests, which include cooking, collecting and drinking vino, gardening, hiking, biking, travel and exercising. I make time for other activities. I need to keep my life varied and interesting. I do feel that these activities sometimes help me rejuvenate my creativity in music, so it all goes together in my mind.

What has your drive to reach creative excellence taught you about yourself and about us as human beings?
I hope and think playing music has made me a better person. One thing I never thought I would be able to do is use music to help people or make the world a better place.
Through the years, as a performer, many friends and people who know me as a musician have asked me to donate my time for a violin performance for a charity fundraiser or I have been asked to donate CDs, violin lessons or tickets to my concerts. These items were used to raise funds at a charity event to benefit someone or an organization.
I have also learned so much about so many different people and met so many wonderful people from performing concerts for these types of events. My favorite part about the music and career is meeting all the different people.
Also, my wife and I travel so much because of the music and because we love to explore the world. The music has allowed us to connect with people we may not have connected with had I not been playing music. We have even connected with people in places who do not speak the same language, but the music allowed us to connect.
Lastly, Tim and I are both very involved with and passionate about music education for people of all ages, especially young people. We visit schools all over the world when we are touring and traveling and we also have music education summer camps that we do throughout the West Coast. We try to affect as many people in a positive way through our music and education. We like to be good role models for young people and also teach responsible song writing.
More like this story
Latest stories
Latest video:
Advertisement: The Men of Black Friday
The secret agents of Big Winds may not exactly be Tommy Lee Jones oand Will Smith, but they still discovered there is plenty of strangeness to be found in Hood River...especially once winter sets in. Enlarge